Susan Rice
Director of the Domestic Policy Council | Former National Security Advisor | Former Ambassador to the United Nations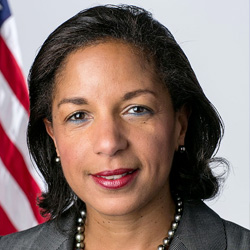 As early as the spring of 2020, there was media buzz that Susan Rice would have a position in the Biden administration, but many commentators were surprised when she was ultimately tapped as director of the Domestic Policy Council. As a former U.S. Ambassador to the United Nations and National Security Advisor to the Obama administration, Rice's foreign policy background seemed a better fit for Secretary of State. Indeed, she was once Obama's top choice to replace former Secretary Hilary Clinton in 2012, but after Rice became the public face of the administration's response to the Benghazi attacks, Republican opposition forced her to drop out of the running. Rice did not require a Senate confirmation hearing to be director of the DPC. 
Though she sometimes faced criticisms as National Security Advisor for not cooperating with other agencies, Rice said early on that she intends to work closely with Biden's National Security Council and National Economic Council. "In the 21st century, our foreign, economic, and domestic imperatives are deeply intertwined," she said. 
As National Security Advisor, Rice was one of the architects of the Obama administration's Central American aid plan, and she's brought that experience to bear on her new position. In an interview with Spanish-language wire service EFE, Rice laid out a three-pillar immigration plan that will commit $4 billion in aid over 4 years to struggling Northern Triangle countries, expand family reunification and employment-based immigration opportunities, and expedite the asylum process while minimizing immigrant detention. 
However, as a self-described realist, Rice takes a more cautious approach to some of President Biden's campaign promises. Although Biden has pledged to provide a pathway to citizenship for undocumented immigrants, Rice emphasized that he will attempt to do so through the legislature, not by executive order. And while migrants and activists originally hoped the administration would immediately rescind the emergency order from March 2020 that closed the border to all but essential travel due to COVID-19, Rice was the first to deliver the message that it would not. "Migrants and asylum seekers absolutely should not believe those in the region peddling the idea that the border will suddenly be fully open to process everyone on Day 1," she said.
SOURCES: