Susan Rice
Former Director of the Domestic Policy Council | Former National Security Advisor | Former Ambassador to the United Nations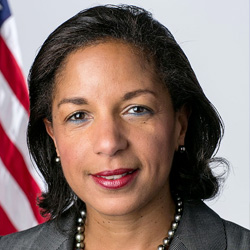 Susan Rice served as Director of the Domestic Policy Council (DPC) before stepping down in April 2023. Although she largely stayed out of the public eye, her influence could be felt throughout the first three years of President Biden's immigration and border strategy. She steered the administration away from its early campaign promises to counter former President Trump's border policy with a more liberal one, instead focusing on more aggressive enforcement policies aimed at deterring the unprecedented surge in migration at the southern U.S. border.
As early as the spring of 2020, there were rumors that Rice would have a role in the Biden administration, but many commentators were surprised when she was ultimately tapped as director of the DPC. As a former U.S. Ambassador to the United Nations and National Security Advisor to the Obama administration, Rice's background seemed a better fit for a position shaping foreign policy. Indeed, she was once Obama's top choice to replace former Secretary of State Hilary Clinton, but was forced to drop out of the running after coming under fire from Republicans for defending the Obama administration's response to the 2012 Benghazi attacks. Reserving Rice for a behind-the-scenes job — and one that did not require a confirmation hearing — was likely a move designed to spare her another public melee. 
Even before she took office, Rice cautioned that easing the Trump administration's hawkish immigration restrictions too quickly might encourage migrants and asylum seekers to come to the southern border before the government established the capacity to process them. When migrants did indeed begin to arrive, setting off record border apprehensions in mid-2021, Rice directed a pivot toward enforcement and deterrence. She nixed a plan to vaccinate migrants in U.S. custody, arguing that it might incentivize border crossing, and scrapped early efforts to end Title 42 deportations. She was also reportedly one of several officials who pushed for the rapid deportation of thousands of Haitian nationals who arrived en masse in Del Rio, Texas, in late summer 2021, arguing that an early crackdown would dissuade others from making the trek in the future. Critics viewed the deportations as particularly harsh due to extreme instability in Haiti, a country that many of the migrants had fled years ago to settle across South America before beginning their journeys to the U.S.
Despite the emphasis on damage control on the border, Rice's influence shaped the administration's policy on immigration reform more broadly. In an interview before taking office, she outlined a three-pillar immigration plan that would commit $4 billion in aid over four years to struggling Northern Triangle countries, expand family reunification and employment-based immigration opportunities, and expedite the asylum process while minimizing immigrant detention. The Biden administration pursued each of these goals wherever possible through executive actions.
SOURCES: