Raúl Grijalva
Democratic U.S. Congressman from Arizona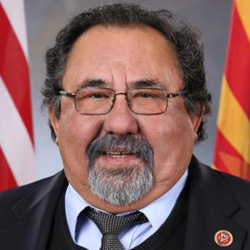 As one of the most progressive members of the U.S. House of Representatives and from a congressional district that includes a long stretch of border communities — including parts of major cities like Yuma, Phoenix, and Tucson — Raúl Grijalva is a powerful voice on immigration policy. As the Center for Immigration Studies (an immigration reduction think tank) once described him: "Grijalva's life in politics has been defined by his determination to knock down barriers in the way of Mexican-Americans and immigrants and, as their numbers grew, to harness their political power."
The son of a Mexican migrant worker, Grijalva was born in Arizona and first entered politics as part of the Raza Unida Party, a political party founded in the early 1970s by Chicano civil rights activists dissatisfied with the Democratic Party. After losing a 1972 bid for a Tucson school board seat, Grijalva left the Raza Unida Party, softened several of his stances, and joined the Democratic Party. Two years later, he was elected to the Tucson school board.
In 2002, Grijalva was elected to the U.S. House of Representatives. In one of his first floor speeches, he called for a national holiday to honor Cesar Chavez, the American labor leader and Hispanic civil rights activist.
In 2006, Grijalva told a New York Times reporter that politicians who see political benefit in disparaging the growing number of Latinx voters in the country should be warned, "You might be getting a momentary bump, but in the long run you are going to lose."
Whereas many Democrats are willing to exchange border security funding for advancing the DREAM Act or more protections for asylum seekers, Grijalva often draws a hard line on such bargains. In 2008, he got angry with Democratic House leaders who allowed hearings on the Secure America with Verification and Enforcement (SAVE) Act, which would have boosted border security and cracked down on employers of undocumented immigrants. He has also blasted Democratic leaders as "spineless" for not prioritizing a pathway to citizenship for undocumented migrants and expanding visa programs to allow for more foreign workers.
SOURCES: