Amy Klobuchar
Democratic U.S. Senator from Minnesota | Former Democratic 2020 Presidential Candidate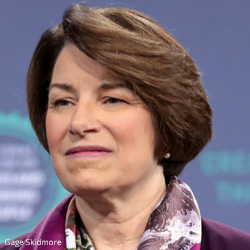 A U.S. senator from Minnesota, a midwest state that Donald Trump came within two points of winning in 2016, Amy Klobuchar ran for the 2020 Democratic presidential nomination on a centrist platform that she said could win back Trump voters. On the eve of Super Tuesday, Klobuchar dropped out of the race and endorsed Joe Biden, which observers say resulted in the former vice president winning the Minnesota primary.
In 2006, during her successful run for the U.S. Senate, Klobuchar took a moderate position on immigration. "I believe we need to have order. We need to have adequate border controls, the fence, and no amnesty for companies hiring illegal immigrants," she said at the time.
In the Senate, Klobuchar voted for a 2007 bill that would have made English the official language of the United States (there is at present no official language). She has since made it clear she would not vote that way again. The Immigration Innovation Act of 2013, which Klobuchar co-sponsored, did not include this provision, and would have amended the Immigration and Nationality Act to establish an annual cap on H-1B visas between 115,000 and 300,000, depending on market conditions and demands.
In 2019, Sen. Klobuchar introduced the Protecting Immigrant Victims of Domestic Violence Act, which would allow immigrants who are victims of domestic abuse to apply for independent immigration status even if their spouse only has a temporary visa — encouraging them to come forward and receive assistance.
As a presidential candidate, Klobuchar remained closer to the center than her Democratic rivals on matters of immigration policy. She refused to support decriminalizing border crossings and often talked about the issue in economic terms. At the Democratic primary debate in June 2019, Klobuchar said, "We have a situation right now where we need workers in our fields and in our factories. We need them to start small businesses. We need their ideas. And this president has literally gone backwards at a time when our economy needs immigrants."
Klobuchar has also voiced strong opposition to some of former President Trump's more controversial immigration policies, including the travel ban against immigrants and refugees from Muslim-majority countries. "[Immigrants and refugees] don't diminish America," Klobuchar said in response to the Supreme Court decision upholding the ban, "They are America."
SOURCES: