Cory Booker
Democratic U.S. Senator from New Jersey | Former 2020 Democratic Candidate for President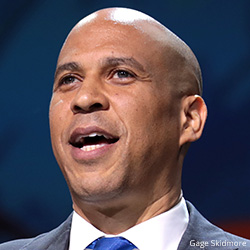 Despite his early departure from the 2020 presidential race, U.S. Senator Cory Booker remains a very popular figure in the Democratic Party. Add to that his position on the Senate Subcommittee for Border Security and Immigration and Booker emerges as an influential voice in the national conversation on immigration policy.
Regarding immigration, Booker's policy proposals have mostly focused on protecting so-called sanctuary cities and greatly reducing the use of immigrant detention facilities.
In April of 2019, he sponsored the Dignity for Detained Immigrants Act, which would enable thousands more immigrants a month to seek release in the short term and radically restrict detention capacity over the course of a few years.
In 2016, he supported the Fair Day in Court for Kids Act, which would have significantly overhauled the immigration court system to require unaccompanied minors in the system to have representation, created a case management pilot project to increase court appearance rates, and required the Department of Homeland Security to submit reports to Congress on the number of detained immigrants represented by counsel and the number of such immigrants who received legal orientation presentations. The bill would also have required the Department of Homeland Security (DHS) and the Attorney General to establish procedures to ensure legal orientation programs are available to all detained immigrants, so that immigrants know their rights.
Beyond his position as a lawmaker, Booker has established himself as a powerful orator capable of bringing attention to any given issue with a mix of emotional delivery and provocation. At a presidential campaign event in June of 2019, Booker compared Trump's immigration platform to the nativist Know Nothing Party of the 19th century, which was seeking to restrict Irish and Italian immigrants from coming to the U.S., adding, "This is why knowing history is so important." He also claimed that President Trump is "trying to make us afraid of people coming from the southern border with brown skin."
SOURCES: