Josh Hawley
Republican U.S. Senator from Missouri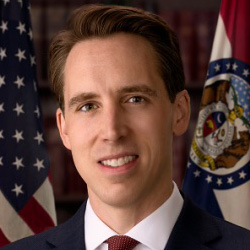 In 2018, Josh Hawley gained national attention when he beat incumbent Democrat Claire McCaskill to become U.S. Senator from Missouri. He is a Trump-endorsed conservative populist who positions himself as a deeply religious Christian and an advocate for working-class and rural Midwesterners.
A junior senator with less than half a term under his belt, Hawley is better known for his positions than his policy accomplishments. He has attacked the high cost of prescription drugs, inaccessible higher education, and a culture in which "billionaires become heroes" while blue collar workers struggle. His talking points have led commentators to draw wry comparisons between Hawley and self-professed democratic socialist Senator Bernie Sanders.
In 2019, a report found that in the previous year, the life expectancy for Missourians dropped from 77.1 years to 77.0 years, partly due to an increase in overdoses. Hawley blames the opioid and methamphetamine crisis in Missouri on a porous southern border and an underfunded border security apparatus. A vocal supporter of the border wall, Hawley voted against a resolution to overturn President Trump's emergency diversion of military funds for construction of the wall.
Hawley has also argued that for the working class, "the flood of immigrants, illegal and otherwise, [exerts] downward pressure on wages." In 2019, he joined Senators Tom Cotton and David Perdue in their attempt to re-introduce the Reforming American Immigration for Strong Employment (RAISE) Act, a measure that sought to reduce overall immigration and to replace the current labor demand-driven visa system with a new "points system." Hawley, Cotton, and Perdue proposed to cap refugee admissions, end the Diversity Visa lottery, and limit family-sponsored immigration by allowing U.S. citizens to sponsor only their spouses and minor children, not parents, siblings, or adult children. Under the RAISE Act's points system, an immigrant's chances of receiving a visa would increase based on factors like level of education, English fluency, and past achievements. "With the RAISE Act, the United States can finally end chain migration and move to a merit-based system," said Hawley.
Perhaps it is Hawley's faith more than anything that sets the context for his approach to immigration issues. In a 2017 speech to the American Renewal Project, he said, "There is not one square inch of all creation over which Jesus Christ is not Lord. …We are called to take that message into every sphere of life that we touch including the political realm."
SOURCES: