Greg Abbott
Governor of Texas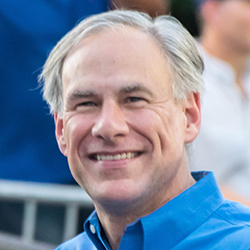 Since early 2021, Texas Gov. Greg Abbott has pursued increasingly aggressive border security and immigration restriction programs that have moved the state into the traditionally federal domain of border enforcement. 
The last few years have been harsh for Abbott. He received criticism from all sides for his governance early in the COVID-19 pandemic — too much intervention for Republicans, too little for Democrats — and faced lingering resentment after the February 2021 winter storm and subsequent power outage that killed at least 246 Texans. Added to that, Texas's populist right wing has always been critical of Abbott's record on border security and immigration, contending that Abbott often quietly sides with Texas employers, who depend on the state's undocumented population for cheap labor, by refusing to enact stricter E-Verify legislation. Ahead of his 2022 gubernatorial re-election, and with migration across the U.S.-Mexico border spiking, Abbott began trying to reframe himself as someone "stepping up" to secure the border. 
In an attempt to empower the state of Texas to make immigration-related arrests, he deployed over 10,000 Texas National Guardsmen and state troopers to border areas to arrest migrants for state criminal charges like trespassing and vandalism, a program known as Operation Lone Star. He also sought to block Biden administration policies that he argued were incentivizing irregular migration by admitting migrants into the U.S. rather than turning them away at the border under Title 42 or the Migrant Protection Protocols (MPP). Abbott ordered state law enforcement to pull over vehicles — including federally-contracted bus lines — transporting migrants released from CBP custody, and revoked the licenses of 40 childcare facilities contracted by the U.S. Department of Health and Human Services to house unaccompanied minors. Borrowing from Trumpian symbolism and showmanship, he announced that Texas would build its own wall along the U.S.-Mexico border. And, most famously, he began busing recently-arrived migrants to northern cities like New York, Chicago, and Washington, D.C., including Vice Pres. Kamala Harris's D.C. residence, declining to coordinate with destination cities. 
Abbott's programs have had mixed impact. A federal lawsuit halted his order to pull over vehicles transporting migrants, and after he pulled licenses from childcare facilities, the Texas Health and Human Services Commission allowed them to continue operating. Operation Lone Star also faced backlash after the suicides of four Guardsmen deployed on the mission, which brought attention to disorganized leadership, pay issues, and low morale among soldiers. In addition, in January 2022 a federal judge tossed out as unconstitutional the case of one asylum-seeker arrested for trespassing under Operation Lone Star, setting a precedent for other migrants to contest their arrests. 
Abbott's busing program also faced criticism; however, it successfully captured national attention, spawned copycat attempts from Arizona Gov. Doug Ducey and Florida Gov. Ron DeSantis, and gained the approval of his base — 80 percent of Texas Republicans support the busing, according to an August 2022 poll. As of January 2023, Texas had bused over 16,600 migrants to northern cities.
SOURCES: