Pramila Jayapal
Democratic U.S. Congresswoman from Seattle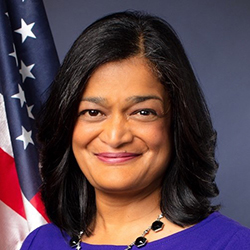 As a newly elected congresswoman in 2016, Jayapal boycotted the inauguration of Pres. Donald Trump to host a roundtable for immigrants, refugees, and DACA recipients in her home district instead. In the last few years, she's become a powerful figure on the House's left wing, chairing the Congressional Progressive Caucus with progressive immigration policies as her top priority.
Born in Chennai, India, and raised in Singapore and Indonesia, Jayapal immigrated to America at the age of 16. After working as a non-profit executive, in the wake of the 9/11 attacks she founded Hate Free Zone (later renamed OneAmerica), a group that advocated on behalf of immigrant Muslims, Arab Americans, East Africans, and South Asians. While campaigning to be a state senator in 2014, Jayapal joined detainees at an immigration detention center in a hunger strike in protest of Obama's deportation policies. In 2016, she became the first Indian-American woman to be elected to the House of Representatives.
Jaypal spent her first two terms working to protest and counteract President Trump's immigration policies. Jayapal was among nearly 600 protestors arrested in 2018 during a sit-in at the Senate building protesting the Trump administration's family separation policy. When Pres. Trump banned travel from predominantly Muslim countries in 2017, Jayapal crossed the tarmac at Sea-Tac to reach the airport's CBP office and obtain a list of detainees set to be deported, stalling agents until a federal judge filed a temporary halt to deportations. She later sponsored the Access to Counsel Act, which would mandate that individuals detained at borders and ports of entry have access to legal counsel before they are deported.
As the chair of the Congressional Progressive Caucus, Jayapal has emerged as someone who's willing to negotiate between establishment figures like former Democratic House Speaker Nancy Pelosi and left-wing representatives like Alexandria Ocasio-Cortez. She also serves on the House Subcommittee on Immigration and Border Security and co-chairs the Women's Working Group on Immigration.
SOURCES: