Jose Antonio Vargas
Journalist | Activist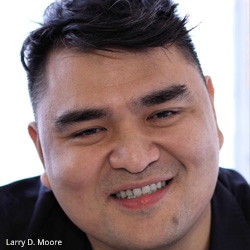 Jose Antonio Vargas, an influential voice on U.S. immigration policy, is himself at risk of being deported.
Born in the Philippines, Vargas immigrated to Mountain View, California, in 1993 at the age of 12. He originally made a name for himself in 2008 as part of a team of Washington Post journalists who won a Pulitzer Prize for their coverage of the Virginia Tech shooting. But it was in 2011 that Vargas thrust himself into the center of the immigration debate by "outing" himself as an undocumented immigrant in an essay he wrote for The New York Times Magazine. The essay went viral and launched Vargas as an immigration activist and a leading advocate for the DREAM Act.
Perhaps the greatest expression of Vargas's influence came a year later when, a day after his Time cover story about the ongoing uncertainty surrounding his immigration status, the Obama administration announced it was halting deportations for undocumented immigrants under the age of 30 who would be eligible for legal status via the DREAM Act.
In 2011, he founded Define America, a nonprofit that aims to change how Americans think and talk about immigration issues. Among its activities, the organization invites individuals to share their experiences via video. It also tries to persuade media outlets away from the use of such terms as "anchor baby" and "illegal immigrant." As a result of Define America's efforts, the Associated Press announced in April of 2013 that it would no longer use the term "illegal" to describe a person.
In February 2013, Vargas appeared before the Senate Judiciary Committee, presenting emotional testimony regarding his experiences as an undocumented immigrant. "In 21st century America," he said in his opening remarks, "diversity is destiny. That I happen to be gay, that I speak Tagalog, my first language, and want to learn Spanish — that does not threaten my love for this country. How interconnected and integrated we are as Americans makes us stronger."
In 2014, PEN America gave Vargas the Freedom to Write Award for his immigration advocacy. Four years later he published a memoir, Dear America: Notes of an Undocumented Citizen.
SOURCES: