Mark Kelly
Democratic U.S. Senator from Arizona | Former Astronaut and Navy Captain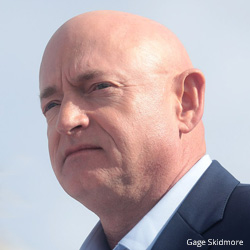 Democrat Mark Kelly, the former astronaut and Navy captain, is a United States senator from Arizona. He gained national recognition as a gun regulation advocate following the 2011 non-fatal shooting of his wife, then-Congresswoman Gabby Giffords. After beating Martha McSally for the Senate seat in a 2020 special election, he was elected to a full term in the 2022 general election.
Kelly won election to the U.S. Senate by relying heavily on his military credentials, fervently stating that active-duty military should not be stationed at the border. In a 2019 interview he said, "Our military is designed to handle national security threats . . . typically overseas. To deploy active-duty military troops at the border, I personally don't think that's the right approach. They're not trained for that."
Like his fellow senator from Arizona Kyrsten Sinema, Kelly has focused his immigration legislation efforts on bills that reach across the aisle. Joining a coalition that included every senator from a southwest border state, with the notable exception of Texas Republican Ted Cruz, Kelly co-sponsored a bill aiming to reimburse border communities for the cost of rendering humanitarian services to migrants. And, in April 2022, Kelly joined with a bipartisan group of senators to introduce legislation opposing the Biden administration's attempt to end Title 42 deportations.
In fact, Kelly has been at odds with President Biden's immigration policies on several occasions. Although President Biden and his cabinet have tried to frame the influx of migrants on the southern border as a "challenge," Kelly has used more heated words, describing the border as "chaos," "a mess," and "crisis after crisis." In a debate with his 2022 general election opponent Blake Masters, Kelly called Biden's attempt to end Title 42 "dumb." Yet Kelly agrees with the same core issues as the president: passing the DREAM Act, building a more robust humanitarian response at the southern border, and conceiving of a more nuanced and varied approach to border security.
SOURCES: