Alejandro Mayorkas
Secretary of Homeland Security | Former Deputy Secretary of Homeland Security | Former Director of U.S. Citizenship and Immigration Services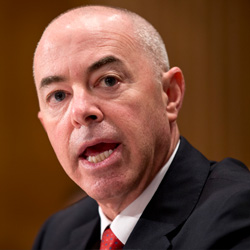 The son of Cuban refugees, Alejandro Mayorkas is the first Latino and the first immigrant to lead the Department of Homeland Security (DHS). He has tried to strike a balance between a welcoming tone and by-the-books immigration enforcement; he is often known to say, "We are a nation of immigrants and we are a nation of laws." 
Mayorkas's term has been marked by significant challenges. Starting in early 2021, migration spiked at the southern border, leaving the DHS scrambling to respond. The agency also diverted significant resources to the exoduses caused by the Russian invasion of Ukraine and the chaotic U.S. exit from Afghanistan. Meanwhile, the executive branch's attempts to enact its own immigration policies, from new ICE enforcement rules deprioritizing nonviolent offenders to the end of the Migrant Protection Protocols, have been repeatedly delayed and blocked by lawsuits from Republican state attorneys general. 
Amid the turmoil, Mayorkas has come under fire from Republicans, who have increasingly called for his impeachment — although there is little precedent for using the process against cabinet officials. Even moderate Democrats like Sens. Mark Kelly and Kyrsten Sinema of Arizona and Rep. Henry Cuellar of Texas have expressed concern over Mayorkas's handling of the border. 
Mayorkas has responded to criticism by pointing a finger at the Trump administration. "The prior administration dismantled our nation's immigration system in its entirety," he said during a 2021 briefing — an exaggeration, although the Trump administration did cut several programs (like the Central American Minors program), slash refugee admissions and refugee resettlement programs, and institute a hiring freeze that left vacancies in key DHS agencies, such as U.S. Citizenship and Immigration Services (USCIS). Pandemic-related furloughs also caused many DHS employees to seek work elsewhere and disrupted administrative processes. 
Ultimately, Mayorkas emphasizes that he has a limited role to play, calling on the legislative branch to pass immigration reform. "[The system] is not built to manage the current levels and types of migratory flows," he said during a hearing in April 2022. "Only Congress can fix this."
SOURCES: