Kyrsten Sinema
Independent U.S. Senator from Arizona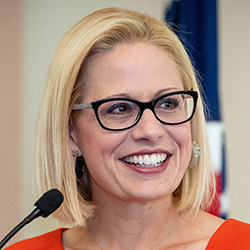 In 2018, Kyrsten Sinema became the first Democratic senator to be elected in Arizona since 1988, unseating incumbent Republican Martha McSally. A staunch believer in bipartisanship, she has cooperated with Republican lawmakers on a number of border security and immigration bills. In November 2022, she changed her political affiliation to Independent. 
Sinema's party switch angered Democrats already stung by Sinema's holdout votes on key Democratic priorities in the 117th Congress, such as eliminating the filibuster and passing President Biden's $3.5 trillion social spending and infrastructure plan. Yet Sinema's switch was in keeping with her long career of nontraditional party affiliation. She got her start in politics working for Green Party candidates, including on Ralph Nader's 2000 presidential campaign, and ran for Arizona state legislature as an Independent in 2002. Her unsettled political identity also fits the state she represents, whose registered voters are split into nearly equal thirds between Republicans, Democrats, and Independents. 
Sinema has long followed a coalition-building approach to politics. In 2009, while serving as an Arizona state representative, she published a political memoir titled Unite and Conquer: How to Build Coalitions That Win and Last. As a U.S. senator, she rarely throws her weight behind a bill that doesn't have significant backing across the aisle, and frequently collaborates on border policy with Republican Sens. James Lankford of Oklahoma, John Cornyn of Texas, and Thom Tillis of North Carolina. With Sen. Lankford, Sinema has pursued targeted bills to establish a Border Patrol "reserve corps," to strengthen CBP's response to cross-border trafficking tunnels, and to establish procedures for maintenance projects at ports of entry, among other things. 
Sinema also bends toward the right on law-and-order and security concerns. As a congresswoman in 2015, she joined 235 Republicans and only five other Democrats to vote for a law cracking down on sanctuary cities. She also sided with Republicans in their attempts to block refugees from countries with large Muslim populations over concerns that extremist terrorists might enter the U.S. through the refugee program.
Sinema tends to vote on technicalities, and isn't averse to mixing her messaging to achieve a narrow result. For example, she once sponsored a bill that would block visa waivers for anyone who had traveled to Iran, Sudan, Syria, Afghanistan, Egypt, Iraq, Libya, Yemen, Somalia, or Nigeria within the preceding five years. Sinema called the move necessary to "protect the integrity of [the visa waiver program] and prevent… terror networks from using the program to gain access to the US." Weeks later, Congress passed a similar bill that barred access to the visa waiver program for both recent travelers to and nationals of those countries. Sinema voted in favor of that bill, only to co-sponsor a bill two months later that sought to roll back the prohibition against nationals, leaving only her original prohibition against recent travelers. 
Despite her frequent focus on narrow, standalone bills, she has occasionally attempted to broker more comprehensive bipartisan action on immigration. At a speech she gave in 2022 by invitation of Sen. Mitch McConnell at his namesake center at the University of Louisville, she called comprehensive immigration reform the "top of her wishlist." In 2021, she worked with Sen. Cornyn on the Bipartisan Border Solutions Act, a bill endorsed by the New York Times Editorial Board that sought to establish regional processing centers at the border to detain individuals and process asylum claims. In the final days of the 117th Congress, she tried to construct with Sen. Tillis a sweeping border security and immigration "framework," but the collaborative effort fell apart before a bill could be introduced. 
Sinema's party switch means she will avoid a Democratic primary in 2024, which, considering her dismal popularity with Arizona Democrats, would have been hotly contested. The question remains: Can she capture enough votes across the spectrum to win, or will she pull enough votes away from a Democratic nominee to put the seat back in Republican hands? 
SOURCES: