Mitt Romney
Republican U.S. Senator from Utah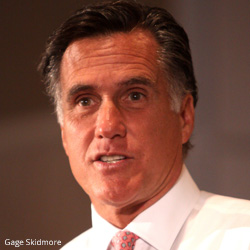 In an increasingly divided Republican Party, Utah Senator Mitt Romney defines the Never Trump moderate branch. During Trump's first impeachment trial, he was the only Republican to vote to convict the president on the charge of abuse of power. It's not the only time Romney has gone against the conservative grain: he's marched with Black Lives Matter protesters, spoken out against "extreme" anti-abortion laws, and as governor of Massachusetts (2003 – 2007) enacted statewide health insurance reforms that later inspired sections of Obamacare. 
Romney opposed some of Trump's most controversial immigration policies, such as the Muslim travel ban, the "zero tolerance" family separation policy, and the emergency declaration to divert funding to the border wall.  But he has called himself "more of a hawk" on immigration than Trump, especially in reference to the fact that Trump attempted to bargain with Democrats by including a pathway to citizenship for DACA recipients in an early version of his 2018 omnibus spending bill. Romney, originally an opponent of DACA altogether, has come to support a permanent protected status, but no special pathway to citizenship, for DACA recipients. He has proposed that the only exception should be a pathway to citizenship through military service.
During his bid for the 2012 Republican presidential nomination, Romney sought to differentiate himself from his fellow primary candidates by doubling down on a hard-line set of policies aimed at getting undocumented immigrants to "self-deport." Romney's plan included barring undocumented immigrants from public services and from employment by making E-Verify work authorization checks mandatory for employers nationwide. In primary debates he highlighted that as governor of Massachusetts he blocked undocumented immigrants from obtaining driver's licenses and vetoed a measure to give undocumented students an in-state tuition rate at public universities — the latter a jab at his primary opponent, Texas Governor Rick Perry, who had recently signed off on a similar measure in Texas.
Romney framed the self-deportation approach as a humane and efficient alternative to ICE raids, mass roundups, and forced deportations. But critics allege that such policies would harm the economy and lead to racial profiling and harassment. In their 2012 ruling on Arizona v. United States, the U.S. Supreme Court struck down most sections of an Arizona law aimed at attrition-by-enforcement, which put Romney in an uncomfortable position: his immigration advisor, Kris Kobach, was one of the architects of the law. Romney distanced himself from Kobach, but also said ambiguously that he "would have preferred to see the Supreme Court give more latitude to the states, not less."
During his 2018 run for the Senate, Romney began advocating for the establishment of a points-based system for assigning visas. Such a system would prioritize immigrants based on their English language fluency, job skills, familial connection to the United States, and level of education. Notably, Romney specified that his version of a points system would award more points the longer an applicant has been waiting for approval, a criteria that would benefit DACA recipients, whose time spent in the U.S. would count toward their waiting time. The idea of a points system has broad bipartisan appeal: it was included in the "Gang of Eight" 2013 immigration reform bill, which united Republicans and Democrats in the Senate but failed to come to a vote in the Republican-controlled House.
SOURCES: