Stephen Miller
Former Senior Policy Adviser to President Trump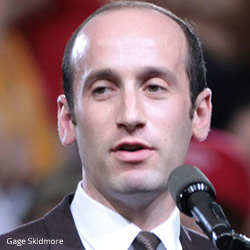 Outside of former President Trump's own family members, Stephen Miller remained one of the more constant figures in the Trump universe, joining the Trump campaign before the 2016 Iowa caucuses and serving as White House senior policy adviser for the entirety of Trump's term in office. Miller was the architect of many of Trump's most hawkish immigration policies and remains an influence on Republican strategy.
Miller, who grew up in Santa Monica, California, went to Duke University before entering politics as the press secretary for Congresswoman Michele Bachmann and later Congressman John Shadegg — two lawmakers with very conservative records on immigration. In 2009, Miller joined then-Senator Jeff Sessions's staff and later played a central role in Sessions's opposition to the Border Security, Economic Opportunity, and Immigration Modernization Act of 2013, a bipartisan piece of legislation that aimed to increase border security while also creating a pathway to citizenship for undocumented immigrants already in the country. Sessions and Miller led the ultimately successful effort to stop the bill on the premise that any pathway to citizenship would fundamentally hurt American workers.
Critics of Miller have asserted his immigration policies are motivated by racial antagonism. They point to interactions Miller allegedly had at Duke University with Richard Spencer, a white nationalist and leader of the alt-right (whom Miller has since denounced); more than two dozen columns Miller wrote for his college newspaper, including one that railed against multiculturalism; and a trove of Miller's emails leaked by a Breitbart News editor that show an apparent affinity for ideas popular among white nationalists and praise for Camp of the Saints, a book known for its depiction of "white genocide."
The Breitbart emails, released in 2019, were never disputed by the White House, where Miller continued to play a leading role in Trump's immigration policy, including the travel ban for people from Muslim-majority countries, reducing the annual cap on refugees accepted into the country from 110,000 to 18,000, and the "zero tolerance" border security policy, which separated children from parents and mandated detention for everyone caught crossing the border illegally.
Though Miller remained central to Trump's presidential decision-making, administration officials regularly leaked unflattering stories about Miller to the press, including allegations that he blocked the publication of internal Trump administration studies that showed refugees had a net positive effect on the national economy, and that Miller once told a White House colleague that he "would be happy if not a single refugee foot ever again touched America's soil."
As early as 2018, Miller had frequently floated the idea of using the president's broad public health powers to restrict migration. When the COVID-19 pandemic struck in 2020, guided by the legal precedents Miller had previously explored, the Trump administration closed land borders, restricted international travel, and suspended issuance of green cards. On a private call, Miller told supporters that pausing new green cards was part of his broader plan to cut legal immigration and disrupt "chains of follow-on migration."
Since leaving the White House, Miller has continued to guide GOP strategy, briefing Republican lawmakers on how to oppose Biden's proposed immigration policies and serving as an advisor for far-right candidates during the 2022 midterms. He also founded America First Legal (AFL), an organization which aims to pursue conservative goals through litigation. In April 2021, after the Biden administration eased the deportation of children and other vulnerable groups crossing the southern border, AFL joined with Texas Attorney General Ken Paxton to file a federal lawsuit aimed at forcing the administration to fully enforce Title 42 restrictions against all migrant groups.
SOURCES: