Alexandria Ocasio-Cortez
Democratic U.S. Congresswoman from New York City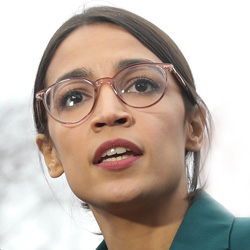 Alexandria Ocasio-Cortez became a national figure in 2018 when she upset Joe Crowley, a member of House leadership, in the June primary for the U.S. House seat representing New York's 14th congressional district. The newly minted progressive leader won the general election five months later and, at 29, became the youngest woman to serve in the U.S. Congress.
Much of Ocasio-Cortez's young career has been defined by her stances on immigration policy. A leader in the Abolish ICE movement, in an interview during her congressional primary race in March of 2018 she called the agency a "product of the Bush-era Patriot Act suite of legislation" and "an enforcement agency that takes on more of a paramilitary tone every single day." As a congresswoman, she was the only Democrat to vote against H.R. 648 — a 2019 bill to fund and reopen the government — because it funded ICE.
Because of the press's lack of access to immigration detention centers, Ocasio-Cortez has referred to them as "black sites." She has also described them as concentration camps and stood by the description even in the face of widespread criticism, citing such scholars as Andrea Pitzer, who made a similar claim.
An organizer for Bernie Sanders's 2016 presidential campaign, in October of 2019 Ocasio-Cortez endorsed the Vermont senator's 2020 campaign and has been one of Sanders's most prominent supporters, becoming a regular at campaign events. "It wasn't until I heard of a man by the name of Bernie Sanders," she said, "that I began to question and assert and recognize my inherent value as a human being that deserves health care, housing, education and a living wage."
SOURCES: