Maria Elvira Salazar
Republican U.S. Congresswoman from Florida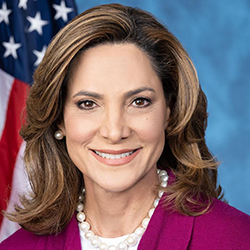 Maria Elvira Salazar represents a congressional district where 72 percent of her constituents are Hispanic and 23.6 percent are noncitizens. As the daughter of Cuban refugees, her close connection with Florida's immigrant community shapes both her political and personal identities. In a 2021 interview with Ideaspace, she said, "I think that only a brown girl from the 'hood being a Republican could definitely bring some solutions to our immigration reform problems." 
Salazar has attempted to strike a balance between the GOP's tough-on-the-border messaging and policies that could protect otherwise law-abiding undocumented workers already living in the U.S. In the 117th Congress, she distinguished herself as a rare Republican willing to break with her party to back Democrat-led immigration bills like the American Dream and Promise Act and the Farm Workforce Modernization Act. She was one of only three Republicans to vote in favor of the Veteran Service Recognition Act, a bill which would have provided permanent resident status to noncitizen veterans. 
Salazar's balancing act is best seen in her flagship piece of legislation, the DIGNIDAD (or Dignity) Act. First introduced in February 2022, the 485-page bill attempted to synthesize a Republican vision of comprehensive immigration reform: one that cracks down on border security, legalizes Dreamers, reforms the agricultural guest worker program, and creates a process that would after many years allow undocumented workers already in the country to obtain legal status. 
The latter process, the "Dignity Program," is Salazar's most notable addition to the immigration reform debate. On the basis of her belief that many undocumented workers don't want to be American citizens but simply want to live, work, and travel without fear of deportation, Salazar's bill would create a 10-year conditional legal status for law-abiding undocumented immigrants. Participants would have to work continuously, check in with DHS every two years, and pay a total of $10,000 over the course of the 10-year program, which would go into a fund to retrain American workers. They would also be barred from accessing any government benefits. For those who complete the Dignity Program, an additional five-year "Redemption Program" would provide an optional pathway to citizenship, requiring more fees or community service, as well as English and civics classes. 
However, the pathway to citizenship in Salazar's original draft would only open once strict border security and immigration enforcement benchmarks were met. Salazar's bill defined these benchmarks as a "90 percent or greater" apprehension rate of unauthorized border crossings, and a certification from the Secretary of Commerce that "all employers in all States" are in compliance with laws that prohibit hiring undocumented workers. Democrats balked at these strict metrics, which are difficult to accurately measure (estimates of current and historic border apprehension rates vary significantly, with some experts claiming the apprehension rate has never risen above 40 percent).  
After the original bill failed to gain more than a handful of moderate Republican co-sponsors, Salazar began negotiating over a new version with Democratic Rep. Veronica Escobar of Texas. The second iteration of the DIGNIDAD Act, first announced in May 2023 and co-sponsored by Rep. Escobar, reduced both the timeframe and the fees for the Dignity Program, and rejected the apprehension rate benchmark altogether in favor of "operational advantage," which it defined flexibly as "as the ability to detect, respond, and interdict border penetrations in areas deemed as high priority for threat potential or other national security objectives." These concessions cemented Salazar's status as one of the only Republicans in Congress open to significant bipartisan negotiations on immigration reform.
SOURCES: