Mark Krikorian
Executive Director of the Center for Immigration Studies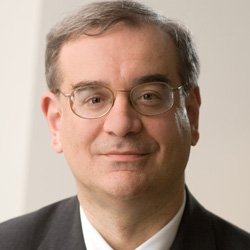 Mark Krikorian is the executive director of the Center for Immigration Studies (CIS), a think tank that seeks to provide "reliable information" regarding the "consequences of legal and illegal immigration." The grandson of an Armenian genocide survivor, Krikorian, who as a young child spoke only Armenian, often argues that immigration was more helpful to the U.S. in the past than it is now. In a 2013 interview he declared that "America has outgrown mass immigration."
Before joining CIS, Krikorian worked at the Federation for American Immigration Reform (FAIR), another organization dedicated to reducing immigration. CIS, FAIR, and a third organization, NumbersUSA, share early ties with John Tanton, the co-founder of CIS who helped form the country's modern immigration reduction movement and led a visceral defense of Euro-American ethnicity as the defining characteristic of America.
Under Krikorian's leadership, CIS has played a central role in stopping several major legislative proposals, including the package put forward by George W. Bush in 2007 (increased southern border security counterbalanced with a pathway to citizenship) and the 2011 attempt to pass the DREAM Act.
More recently, CIS played a major consulting role for Donald Trump's 2016 presidential campaign and remained a central influence on the Trump administration. White House Senior Advisor Stephen Miller and Acting Director of Citizenship and Immigration Services Ken Cuccinelli used CIS talking points in national policy. Many others in the Trump administration — including the analyst Jon Feere, who worked for ICE, and Ronald Mortensen, who was nominated to be the assistant secretary of state for the Bureau of Population, Refugees and Migration — have worked for Krikorian in the past.
As a frequent guest columnist for national publications and a regular talking head on cable news programs, Krikorian is a leading voice for reducing all immigration, arguing that immigration at present levels hurts American workers. In a 2019 essay for National Review he wrote, "The idea that we're running out of potential workers, even in today's good economy, is comical. It may well be that those American workers who don't already have a job are harder to employ — ex-cons, maybe, or recovering addicts or what have you. But importing foreign workers to fill entry-level jobs not only does nothing to address their employability problems; instead, it's a crutch that enables us to ignore the problems of our own workers."
Krikorian has a bedrock belief in assimilation as a key element in a successful immigration policy. "It's more than just learning English, getting a job, and driving on the right side of the road; it's actually adopting America and Americans as your people," he recently told C-Span's Washington Journal. Two factors, he believes, create peril here. Cheap transportation and cheap communication have made it easier for an immigrant to maintain a life in two countries, while the American elite doesn't value assimilation the way it used to. "The problem is not the immigrants, it's us. We need to make clear that we welcome you but you need to become part of the American people and we want to help you do that."
SOURCES: