Kamala Harris
Vice President of the United States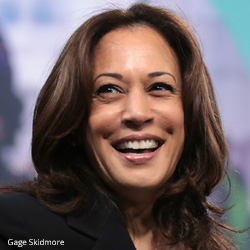 Kamala Harris is the first woman and person of color to hold the office of Vice President of the United States. Although she leads the administration's diplomatic efforts to address root causes of migration from Central America, political opponents have frequently tried to tie her to the administration's border and immigration woes. 
The daughter of a Jamaican immigrant father and an Indian immigrant mother, Harris is a first-generation American. After attending Howard University and obtaining a law degree from the University of California at Hastings, she began her public service as a deputy district attorney for Alameda County, which includes Oakland. She then served two terms as the district attorney for San Francisco before going on to become California's attorney general in 2011. Five years later, she became only the second Black woman to be elected to the U.S. Senate, where her first floor speech included the declaration that "an undocumented immigrant is not a criminal." Harris would later assert that illegal immigration is "a civil violation, not a crime."
A prosecutor by trade, Harris is known for tough-on-crime positions (some of which she moderated or reversed ahead of her own presidential primary run), and for orchestrating large settlements between banks and homeowners in the wake of the 2007 housing crisis. But she also has a significant record on immigration: In 2010, as the San Francisco DA, she railed against an Arizona bill that would have required local law enforcement to act as federal immigration agents; and in 2012, as the state AG, she submitted a brief to the California Supreme Court in support of an undocumented immigrant seeking a law license.
As a representative of California, which has the highest number of DACA enrollees, Harris was outspoken on protecting DREAMers; she opposed a 2017 end-of-year spending bill because it did not include a fix for DACA. During her own primary run for the 2020 Democratic presidential nomination, Harris was relatively moderate on immigration, giving full-throated support for undocumented immigrants in the U.S. while at the same time pressing for strong border security, saying, "I believe in border security. We need to have adequate border controls."
Harris's official role is to lead the administration's strategy to address the root causes of migration from Latin America, a job she's tackled primarily through foreign diplomacy and by recruiting private corporations to invest in Northern Triangle countries. Yet Republicans have frequently tied Harris to the influx of migrants at the southern border by labeling her the administration's "border czar," a characterization she has struggled to distance herself from. At one point, she even had to correct President Biden on her role: while praising her to the Congressional Black Caucus, he said she would do "a hell of a job" on immigration, to which she responded, "Excuse me, it's the Northern Triangle — not immigration."
SOURCES: