Joe Biden
President of the United States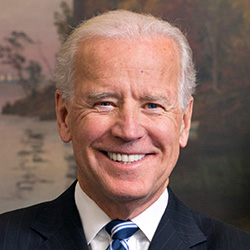 Joe Biden, the former vice president serving under President Barack Obama and a former longtime U.S. senator, is the Democratic president of the United States.
The quintessential establishment politician, Biden is an avowed moderate who touts his centrist credentials as an asset in reaching across the aisle to work successfully with Republican lawmakers. On matters of immigration policy, Biden is in fact to the right of his former rivals for the Democratic nomination for president: He has stood strong on the Obama administration's record number of deportations, he refused to join his fellow Democratic presidential candidates in supporting a repeal of the statute that criminalizes border crossings, and during the Trump presidency he said that he would give Trump a wall (if it added to national security) in exchange for saving DACA.
A U.S. senator from the state of Delaware from 1973 until he assumed the vice presidency in 2009, Biden has a long record on immigration and immigration-related policy.
He was an early and strong supporter of NAFTA, saying he wanted to prioritize "fair trade over free trade." While Biden has hedged on his support of the agreement more recently — "I think that back in the time during the Clinton administration, it made sense at the moment" — he has not changed his position on the matter. Biden has, however, been critical of USMCA, the revised NAFTA agreement negotiated by the Trump administration, saying that it doesn't do enough to ensure that "protections for the rights of our workers are enforced."
As a senator, Biden voted for the 2006 Secure Fence Act, which authorized and funded construction of nearly 700 miles of fencing along the Mexican border and has remained an advocate for strong border security.
And during his 2008 run for the Democratic nomination for president, he drew attention for calling for a ban of sanctuary cities. The issue has come up frequently for Biden because the sanctuary cities movement began as a response to three million people being deported during the Obama administration. While he has more recently criticized former President Trump's crackdown on sanctuary cities, he has not indicated that his opposition to sanctuary cities has changed.
Despite his mixed record on immigration, ahead of his presidential inauguration Biden announced a sweeping immigration proposal to Congress that would provide a pathway to citizenship for the 11 million undocumented immigrants living in the U.S. But the bill has failed to take off, eclipsed by an influx of migrants on the southern border, including a record number of unaccompanied minors. With his approval ratings on immigration low, Biden has worked to redirect focus to his efforts to address the root causes of migration from Central America and his executive actions undoing Trump's landmark immigration policies.
SOURCES: