Alejandro Mayorkas
Nominee for Secretary of Homeland Security | Former Deputy Secretary of Homeland Security | Former Director of U.S. Citizenship and Immigration Services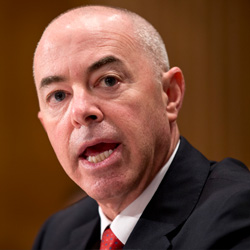 If confirmed, Alejandro Mayorkas will be the first Latino and the first immigrant to serve as Secretary of Homeland Security. His nomination falls in line with President-Elect Biden's stated intent to make immigration policy reform a priority in his administration. 
As the son of Cuban refugees, Mayorkas would bring a deep personal connection to his role. He responded to his nomination on Twitter by writing, "When I was very young, the United States provided my family and me a place of refuge. Now, I have been nominated to be the DHS Secretary and oversee the protection of all Americans and those who flee persecution in search of a better life for themselves and their loved ones." 
As the Director of U.S. Citizenship and Immigration Services (USCIS) under the Obama administration, Mayorkas was integral to the development and implementation of DACA. He has spoken publicly about the need to codify protection for undocumented immigrants through legislation, such as the DREAM Act, and supports expanding DACA's protections to more individuals.
As Secretary of Homeland Security, Mayorkas is likely to attempt to strike a balance between a welcoming and humanitarian immigration policy and by-the-books immigration enforcement. At a Migration Policy Institute conference in 2016, he addressed criticisms that the Obama administration's deportation of Latin American migrants who had not qualified for refugee status was inhumane, saying, "We are a nation of immigrants and we are a nation of laws."
Undoubtedly Republicans will use the confirmation process to draw scrutiny to two allegations of misconduct, one in 2010 and another in 2015. In 2010, Sen. Chuck Grassley penned a letter expressing concerns that as director of USCIS, Mayorkas "[fosters] an environment that pressures employees to approve as many applications as possible and condones retaliation against those who dissent." In 2015, the DHS Office of the Inspector General opened an investigation after employees alleged Mayorkas used his position as deputy secretary of the DHS to provide "special access and special favors" to EB-5 applicants with connections to powerful Democrats. The EB-5 is a program to provide visas to foreigners who will invest between $500,000-$1,000,000 in American business ventures. The report concluded that Mayorkas had "exerted improper influence," but did not break the law.
SOURCES: