Tom Cotton
Republican U.S. Senator from Arkansas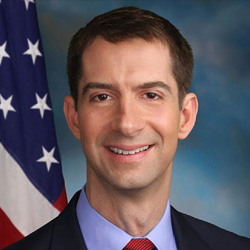 In the last decade, Tom Cotton has risen quickly in the Republican Party. A military veteran and graduate of Harvard Law School, he was first elected to Congress for Arkansas' traditionally Democratic-leaning 4th district in 2012. Since 2015, he has served as the junior U.S. senator from Arkansas, and is now considered a top contender for the 2024 Republican presidential nomination.
As a staunch supporter of President Trump, Cotton has pushed legislation that closely follows Trump's "Four Pillars" immigration framework, which sought to increase funding for border security, including a wall; create a path to citizenship for DACA-eligible undocumented immigrants contingent on good behavior; eliminate the Diversity Visa lottery; and end so-called family-chain migration by allowing citizens to sponsor only their spouses and minor children. Cotton also supported some of Trump's most controversial immigration policies, like barring travel from predominantly Muslim countries and appropriating emergency funds for the border wall. With Trump now out of office, the ideas and actions of conservative politicians like Cotton will determine the lasting impact of Trumpism on the Republican Party. 
Cotton has pushed for a complete overhaul of the immigration system, one that lowers overall immigration while prioritizing highly skilled individuals. This was the crux of his most famous piece of immigration legislation, the Reforming American Immigration for Strong Employment (RAISE) Act, which he co-sponsored with former Georgia Senator David Perdue in 2017. The bill sought to cap refugee admissions, end the Diversity Visa lottery, limit family-sponsored immigration to include only spouses and minor children, and "eliminate the demand-driven model of employment-based immigration and replace it with a points system." Under the proposed points system, an immigrant's chances of receiving a visa would increase based on factors like level of education, English fluency, and past achievements. The bill received praise from President Trump, while Republican Senators Lindsey Graham and John McCain expressed opposition to its strict restrictionist goals. The bill ultimately failed to gain traction. 
Cotton later threw his support behind another initiative with similar aims, co-sponsoring the Secure and Succeed Act with Senators Grassley, Cornyn, Tillis, Perdue, Lankford, and Ernst in 2018. The bill sought to provide citizenship to undocumented immigrants brought to the U.S. as children, provided they met requirements to obtain education, find employment, and abide by the law. In exchange, the amendment would have eliminated the Diversity Visa lottery, limited family-sponsored immigration to include only spouses and minor children, and allocated $25 billion to secure the border. The Secure and Succeed Act failed to pass the Senate.
One of Cotton's main arguments in favor of restrictionism is that a high level of immigration benefits employers and white-collar professionals while depressing wages for native-born workers. This is a disputed position. In 2017, over a thousand economists signed a letter to President Trump arguing that immigration greatly benefits the economy. Other economists, most notably Harvard University's Dr. George J. Borjas, argue the opposite.
SOURCES: