Thomas Homan
Former Acting Director of U.S. Immigration and Customs Enforcement (ICE) | Fox News Contributor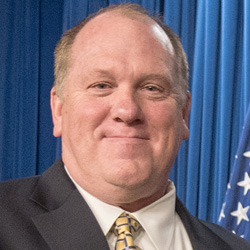 Thomas Homan has won high praise from both President Obama and President Trump for his work at the highest levels of the U.S. Immigration and Customs Enforcement agency.
A longtime Border Patrol agent, investigator, and supervisor, Homan was appointed to executive associate director of ICE in 2013. Three years later, Obama gave him a Presidential Rank Award. At the time, The Washington Post said, "Thomas Homan deports people. And he's really good at it."
Perhaps one of the only Obama appointees to rise in the Trump administration, Homan ascended to acting commissioner of ICE in January 2017. In his first five months in the position, ICE reported 41,319 deportations — a 38 percent increase from the same period a year earlier. In a June 2017 hearing on Capitol Hill he said, "If you're in this country illegally and you committed a crime by being in this country, you should be uncomfortable, you should look over your shoulder. You need to be worried. No population is off the table."
During his tenure, Homan stuck to a strict interpretation of immigration laws, supporting a Trump administration policy that allowed ICE officers to treat pregnant detainees as they would any other. Previously, pregnant women had been spared from detention facilities. Under Homan's leadership, ICE also escalated courthouse arrests of undocumented individuals, despite judges requesting otherwise and several court cases challenging the constitutionality of such actions. Homan also stepped up Enforcement Removal Operations (EROs) in so-called sanctuary cities, a move that at least one judge saw as retaliation for said cities' liberal policies.
A longtime critic of sanctuary cities, Homan suggested in January 2018 that politicians who support sanctuary cities should face criminal charges. "We gotta take [sanctuary cities] to court," he said in a televised interview, "and we gotta start charging some of these politicians with crimes."
In April 2018, five months after President Trump formally nominated him to be director of ICE, Homan announced his retirement from the agency due to "family and personal considerations." Currently a Fox News contributor, Homan remains an influential voice on immigration policy.
SOURCES: