Ted Cruz
Republican U.S. Senator from Texas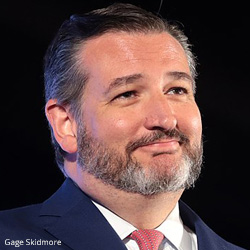 Immigration is a core issue for Republican Senator Ted Cruz. He represents a state that makes up over half the length of the U.S.-Mexico border, and has served on the Senate Subcommittee on Border Security and Immigration since he first took office in 2013. He ran for the Republican nomination for president in 2016 and has signaled that he intends to run again in 2024.
Cruz is an uncompromising opponent of protections for undocumented immigrants, including the DACA program. At a campaign event in 2016, when a young DACA recipient asked whether a President Cruz would deport Dreamers such as herself, Cruz responded, "If you're a DACA recipient it means that you were brought here illegally, and violating the laws has consequences." 
As the child of a Cuban immigrant himself, Cruz has long trumpeted his support for legal immigration. "There is no stronger advocate for legal immigration in the U.S. Senate than I am," he told the Hispanic Chamber of Commerce in early 2015, pointing to his record on H1-B visas. In 2013, he presented an amendment to the "Gang of Eight" immigration bill that proposed to increase the issuance of H1-B visas by 500 percent. Cruz argued that the increase would help American companies fill a shortage of STEM workers even though the program faced charges of widespread abuse and outsourcing. 
However, as a candidate for the 2016 Republican nomination the H1-B amendment came back to haunt him.  Conservative pundit Michelle Malkin called his proposal "nuts," while fellow presidential primary candidate Rick Santorum argued it was a self-serving ploy to attract big-business donors. 
Cruz promptly about-faced. His immigration campaign platform, released in November 2015, called for suspending the H1-B program for 180 days so claims of fraud could be investigated and necessary reforms made, as well as freezing any increase in legal immigration overall until the unemployment rate fell. He pledged to end the Diversity Visa lottery and limit citizens' ability to sponsor their extended families for green cards, two points long sought by anti-immigration hawks. In place of the current employer-driven visa system, he would establish a skills-based "points system" to award visas based on factors like level of education, professional experience, and English fluency. Borrowing talking points from increasingly popular fellow 2016 presidential candidate Donald Trump, Cruz also promised to build a border wall and put an end to birthright citizenship.  
Although Cruz railed against Trump during the 2016 campaign, calling him a "pathological liar" and declining to endorse him at the RNC, he later became one of the president's closest allies. In early 2021 he spearheaded the symbolic bid to overturn the 2020 election results.
SOURCES: