Mitch McConnell
Republican U.S. Senator from Kentucky | Senate Minority Leader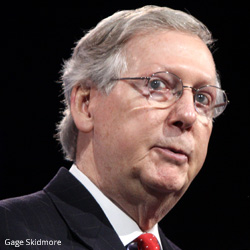 Senate Minority Leader Mitch McConnell is one of the most powerful Republicans in office today. Preferring to sidestep hot-button issues and filibuster legislation rather than lead open opposition, he is perceived as a shrewd tactician whose main goal is to preserve power for the Republican Party.
McConnell is better known for the measures he has opposed than the measures he has supported. For example, he famously blocked a Senate vote on President Obama's Supreme Court nominee, Merrick Garland. In the immigration realm, McConnell deployed a similar tactic on the DREAM Act, refusing to schedule the House-passed measure for a vote in the Senate, which led President Obama to issue DACA by executive order in 2012. In April 2019, McConnell went on the record to say that should a Democrat win the 2020 presidential election, he would use his Republican leadership position to obstruct all progressive legislation.
As for his record on immigration, however, McConnell is hardly an anti-immigration hawk. The Kentucky senator has a long history of voting to increase visas for guest workers, temporary agricultural workers, and highly-skilled H1-B workers, a record that landed him a "D" rating from immigration reduction group NumbersUSA. "The new people who come here have a lot of ambition, a lot of energy, tend to do very well and invigorate our country," he said in 2019, pointing to the example of his wife, Elaine Chao, the former US Secretary of Transportation for the Trump administration who migrated from Taiwan at the age of eight. However, in 2018 he supported Sen. Chuck Grassley's Secure and Succeed Act, which proposed to limit family-sponsored migration and eliminate the Diversity Visa lottery — a development that might easily be blamed on the prevailing political winds of the Trump era.
Political observers say there is a chance McConnell would work across the aisle on immigration. He reportedly has a better working relationship with Biden than he did with Obama, and in 2019 he signaled a willingness to cooperate with Democrats on immigration reform. However, to gain his approval, immigration legislation would have to look less like 2013's "Gang of Eight" bill, which he criticized for its path-to-citizenship provision for undocumented immigrants and for not going far enough on border security, and more like the Secure and Succeed Act. As Democrats are unlikely to make those kinds of concessions, it's more likely that McConnell will return to obstructionist ways, and with Democrats' razor-thin lead in the Senate, obtaining 60 votes to get legislation past him will be challenging.
SOURCES: