Mike Lee
Republican U.S. Senator from Utah | Member of Senate Subcommittee on Border Security and Immigration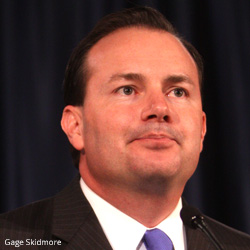 In 2015, five years after winning election to the U.S. Senate from Utah, Mike Lee was named the most conservative U.S. senator by a BYU study. But the Republican has shown signs of bipartisanship when it comes to immigration, having co-authored with Democratic Senator Charles Schumer in 2011 a proposal to include dairy workers in an agricultural visa program. Lee was also an original member of 2013's so-called "Gang of Eight," a bipartisan group of senators that aimed to find common ground on immigration and develop a comprehensive immigration reform bill. 
Ultimately, Lee left the Gang of Eight, stating that he thought immigration reform would be better achieved "issue-by-issue." He argued that the pathway to citizenship they proposed would only incentivize illegal immigration if they did not first enact separate measures to secure the border, improve the E-Verify system, and streamline the backlogged legal immigration system. He ultimately voted against the bill, which passed the Senate but stalled in the Republican-held House.
Still, Lee has continued to work across the aisle on immigration. In February 2019, he teamed up with then-Senator Kamala Harris to reintroduce the Fairness for High-Skilled Immigrants Act, a measure to eliminate per-country caps on green cards. Under the current system, which was first outlined in the Immigration and Nationality Act of 1990, no country can receive more than 7 percent of the family- and employment-sponsored green cards available in any given year, a limitation that has led to decades-long waitlists in high-demand and high-population countries like China, India, Mexico, and the Philippines. Lee and Harris proposed to eliminate the country cap for employment-based visas and raise the country cap for family-sponsored visas from 7 percent to 15 percent. 
The bill received broad bipartisan support, and companion legislation introduced in the House passed both chambers of Congress. But at the last minute, a disagreement emerged when the House refused to sign off on an amendment Lee introduced in the Senate to bar any member of the Chinese military or Chinese Communist Party. Without further action, the bill expired at the end of the 116th Congress. 
Though Lee was a strong supporter of President Trump's border wall, he opposed the president's 2019 emergency declaration that sought to divert military funds for construction of the wall. "Congress has been ceding far too much power to the executive branch for decades and it is far past time for Congress to restore the proper balance of power between the three branches," Lee said.
Despite these glimpses of bipartisanship and resistance to Trump policy, Lee frustrated Democrats in December 2020 when he attempted to block a Senate bill that would lead to the creation of the Smithsonian National Museum of the American Latino in Washington, D.C. In a Senate floor speech, Lee said he opposed the museum in the interest of "national unity and inclusion," contending that "hyphenated" identities result in the "balkanization of our national community."
"It sharpens all those hyphens into so many knives and daggers," Lee said. "It has turned our college campuses into grievance pageants and loose Orwellian mobs to cancel anyone daring to express an original thought."
SOURCES: