Mark Kelly
Democratic U.S. Senator from Arizona | Former Astronaut and Navy Captain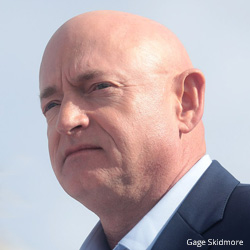 Democrat Mark Kelly, the former astronaut and Navy captain, is a United States senator from Arizona. After beating Martha McSally for the seat in a 2020 special election, he will have to run again in 2022.
Arizona is a border state with a rising Hispanic electorate. As such, Kelly — who gained national recognition as a gun regulation advocate following the 2011 non-fatal shooting of his wife, then-Congresswoman Gabby Giffords — has been defining his positions on immigration policy.
While some of his positions might be more centrist than others in his party — he does not, for instance, support providing government-run healthcare to undocumented immigrants — Kelly is focused on the same core issues: passing the DREAM Act, stopping family separations at the border, and conceiving of a more nuanced and varied approach to border security instead of a single, continuous wall.
Kelly won election to the U.S. Senate by relying heavily on his military credentials, fervently stating that active-duty military should not be stationed at the border. In a 2019 interview he said, "Our military is designed to handle national security threats . . . typically overseas. To deploy active-duty military troops at the border, I personally don't think that's the right approach. They're not trained for that."
SOURCES: