John Cornyn
Republican U.S. Senator from Texas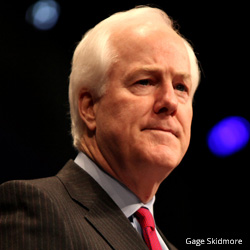 As a senator from a border state where the Hispanic population is nearing 40 percent, John Cornyn has often tried to employ a compassionate rhetoric when it comes to immigration policy.
"We can't forget that our border communities are critically important, and any solution we find must somehow balance our normal compassion for people who are vulnerable and people who are seeking a better life," he said in a 2018 interview.
Yet Cornyn voted against the 2010 version of the DREAM Act, as well as the 2013 attempt at comprehensive immigration reform, which would have provided a pathway to citizenship for some of the undocumented population in the country. And in 2016 he co-sponsored the Stop Sanctuary Policies and Protect Americans Act, which would hold sanctuary cities accountable for defying federal immigration laws and increase penalties for individuals who illegally re-enter the United States after being removed.
As GOP Senate Majority Whip and Chairman of the Senate Subcommittee on Immigration, Refugees and Border Security, Cornyn was an ally of the Trump administration's immigration agenda in Congress. But in one area, he has held onto a more centrist position: The senator has long been a proponent of increasing the business community's access to foreign workers. He co-sponsored the Global Competitiveness Act of 2008, which provided more H-1B visas for employers, as well as the possibility of some "permanent employment-based visas." And, as recently as 2019 he said, "It's important to remember that any actions that we take to secure our southern border must also keep in mind the important role that Mexico plays in the economy of the United States.'"
Cornyn, like other Republicans, has rejected President Biden's sweeping immigration reform bill, stating to Politico that "comprehensive immigration is never going to work." However, as his state strains to manage a 20-year high in migrant apprehensions, he has shown renewed interest in tackling reform through piecemeal legislation, particularly if he can work in stricter asylum policies. In April 2021 he met with a bipartisan group of senators to talk strategy on incremental reform. At the same time, he partnered with centrist Democrats Senator Krysten Sinema and Representative Henry Cuellar to introduce the Bipartisan Border Solutions Act, a bill that would establish four new asylum processing centers and increase the ranks of immigration judges and asylum officers to expedite decisions on asylum claims.
SOURCES: