Bernie Sanders
Independent U.S. Senator from Vermont | Former 2020 Democratic Candidate for President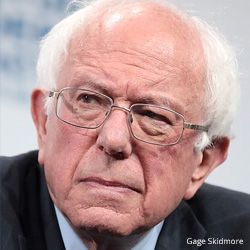 Though he ran for president as a Democrat, Bernie Sanders has had a 40-year political career as an independent and self-describes as a democratic socialist, making him arguably the most far-left figure ever to have made a serious run for the Democratic nomination. Indeed, Sanders was a top-tier candidate in 2020 and in 2016 came close to defeating Hillary Clinton for the Democratic nomination for president.
Regarding immigration, the Vermont senator outflanked his 2020 presidential primary opponents on the left with a campaign platform calling for a moratorium on all deportations and the abolition of ICE and CBP.
But Sanders has not always been out ahead of the Democratic caucus on the issue. In 2007, his opposition to an immigration reform bill, on the grounds that it would expand the number of guest workers in the U.S. and thereby depress wages and opportunity for American labor, won the progressive senator praise from the likes of Iowa Republican Congressman Steve King. Still, one of the first bills Sanders co-sponsored after joining the U.S. House of Representatives in 1991 was the Reasonable Detention of Aliens Act, which aimed to limit the Attorney General's authority to detain undocumented mothers with dependent children two years of age or younger. And in his first year as a U.S. senator, he co-sponsored the DREAM Act of 2007, one of the first pieces of legislation designed to give lawful status to individuals brought to the U.S. as minors.
During Donald Trump's presidency, Sanders co-sponsored a long list of bills written to overturn several of the former president's executive actions on immigration, including family separations, barring asylum-seekers from entering the U.S., and denying visas to individuals from several Muslim-majority countries. One of the rallying themes of Sanders 2020 presidential campaign was "a fair economy that accommodates undocumented immigrants and American workers without discrimination and manipulation of wages."
Sanders's success in the 2020 primaries was significantly aided by Latinx voters, who helped the Vermont senator win the Nevada caucuses and California primary. And his full-throated endorsement of Joe Biden in the general election has secured him a voice in the Biden administration, where the senator is expected to continue fighting for labor rights and against income inequality, both central issues to the immigration debate.
SOURCES: