Alex Padilla
Democratic U.S. Senator from California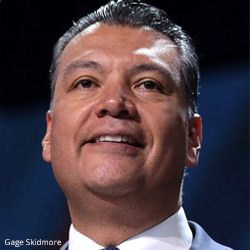 On December 22, 2020, California Governor Gavin Newsom named Alex Padilla to fill the U.S. Senate seat vacated by Vice President Kamala Harris. Padilla is the first Latino to serve in the U.S. Senate from California, a state where Latinos make up 40 percent of the population, and the first Latino to chair the Senate Judiciary Committee's Immigration subcommittee.
The son of Mexican immigrants who met while applying for green cards, Padilla was first drawn into politics in 1994 to campaign against Proposition 187. The ballot measure, which was approved by voters but never enforced, would have denied services such as healthcare and public education to undocumented immigrants. Padilla saw the measure as symptomatic of a broader anti-immigrant sentiment gaining traction at the time. "Seeing the harsh rhetoric of that campaign and the political climate around it, I realized I had no choice," said Padilla. "I had to get involved so that families like mine, communities like mine, would not continue to be scapegoated or targeted."
While he served as a California state senator from 2006 to 2014, Padilla quietly worked to increase access to public services for California's undocumented population. In 2008 he co-sponsored legislation that sought to make undocumented students eligible for financial aid, a measure that was vetoed by Republican Governor Arnold Schwarzenegger. He later voted in favor of a similar measure that was signed into law by Democratic Governor Jerry Brown. He also voted to permit issuance of driver's licenses to individuals without proof of citizenship or lawful status, and to prohibit law enforcement from detaining anyone solely on the basis of their immigration status.
As California's Secretary of State since January 2015, Padilla was best known for his commitment to election security and accessibility. In 2015 he sponsored legislation to automatically register eligible individuals to vote when they applied for or renewed a driver's license. He argued that this would especially benefit young first-generation citizens, who might be less familiar with the registration and voting process than the children of voting-eligible citizens.
Although his primary duty as secretary of state was to oversee elections, Padilla also used his platform to criticize many of the Trump administration's immigration policies. Padilla's regular press releases slammed the ban on travel from predominantly Muslim countries, the pardon of former Arizona Sheriff Joe Arpaio, and the "zero-tolerance" family separation policy. He called the Trump administration's rhetoric divisive, racist, and anti-immigrant.
On January 12, 2021, just nine days after being sworn in as a senator, Padilla signaled that he would put immigration reform front and center in the new Congress, tweeting, "For nearly a year, undocumented essential workers have risked their health to put food on our tables and supplies in our stores. The next COVID relief bill must include a pathway to citizenship for farmworkers, domestic workers, and others who kept our communities growing." In March 2021, he introduced his first piece of legislation, the Citizenship for Essential Workers Act.
SOURCES: