Alex Padilla
Democratic U.S. Senator from California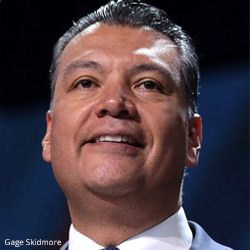 After California Gov. Gavin Newsom named Alex Padilla to fill the U.S. Senate seat vacated by Vice Pres. Kamala Harris in 2020, he was reelected to a full term in the 2022 midterms. Padilla is the first Latino to serve in the U.S. Senate from California, a state where Latinos make up 40 percent of the population, and the first Latino to chair the Senate Judiciary Committee's Immigration subcommittee.
The son of Mexican immigrants who met while applying for green cards, Padilla was first drawn into politics in 1994 to campaign against Proposition 187. The ballot measure, which was approved by voters but never enforced, would have denied services such as healthcare and public education to undocumented immigrants. Padilla saw the measure as symptomatic of a broader anti-immigrant sentiment gaining traction at the time. "Seeing the harsh rhetoric of that campaign and the political climate around it, I realized I had no choice," said Padilla. "I had to get involved so that families like mine, communities like mine, would not continue to be scapegoated or targeted."
While he served as a California state senator from 2006 to 2014, Padilla quietly worked to increase access to public services for California's undocumented population, including making undocumented students eligible for financial aid, permitting issuance of driver's licenses to individuals without proof of citizenship or lawful status, and to prohibit law enforcement from detaining anyone solely on the basis of their immigration status.
Immigration is one of Padilla's top priorities: In his first year as a U.S. senator, he introduced seven pieces of immigration legislation, more than all but three other senators in the 117th Congress. Through his bills, he has sought to create pathways to citizenship for veterans and their families, essential workers, and young people who entered the U.S. legally as the children of visa-holders but aged out of protected status (also known as "documented Dreamers"). He also introduced a bill that would allow any noncitizen to apply for a green card if they had resided in the U.S. continuously for more than seven years.
Padilla is willing to work with his Republican colleagues — and equally willing to go around them. He has cooperated on legislation with more moderate Republicans, including Susan Collins and Lisa Murkowski, and took part in bipartisan negotiations between fellow Democrat Dick Durbin and Republicans Thom Tillis and John Cornyn. But he was also one of the key players in a last-ditch effort to create a pathway to citizenship and recapture unused green cards through the filibuster-proof budget reconciliation process in 2021. When the Senate parliamentarian blocked the measures, saying they went too far beyond budgetary concerns, Padilla initially held the line, saying the budget would "have a hard time passing the Senate if there's not something on immigration." But after repeated failures to appease the parliamentarian, Padilla ultimately voted for the budget without any provisions on immigration.
He also tried to amend the Immigration and Nationality Act to disincentivize the deportation of long-term residents of the U.S.; to prevent criminal sentences that have been dismissed, vacated, or pardoned from affecting an individual's immigration status; and to ensure people stopped for inspection while trying to enter the U.S. have access to counsel.
SOURCES: