IMMIGRATION NEWS BY THE NUMBERS – JUNE & JULY 2023
July 27, 2023 – By Ariel Miller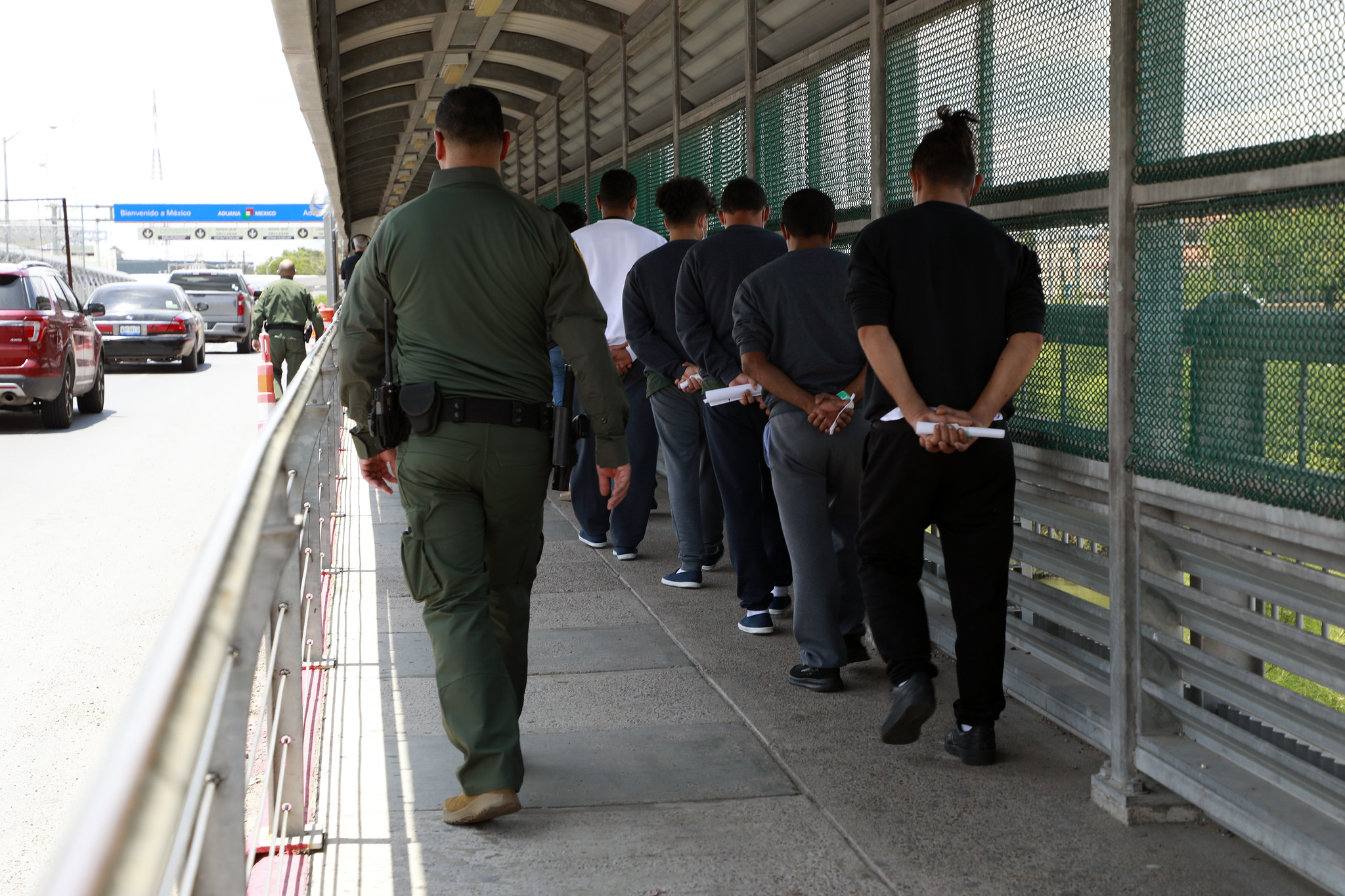 58%:

Reduction in the number of encounters between U.S. Border Patrol and migrants at the southwest border between May and June after the Biden administration implemented strict asylum restrictions.
Since the end of Title 42 on May 11, the Biden administration has cracked down on asylum seekers, denying entry to individuals who don't make an appointment to claim asylum at a port of entry through the smartphone app CBP One. As a result, between May and June, the number of encounters between U.S. Border Patrol and migrants at the southwest border fell by 58 percent, which the administration has pointed to as a sign of the policy's success. The government has defended the policy by pointing to the expanded number of CBP One appointments, which grew from about 740 per day before the expiration of Title 42 to about 1,450 per day border-wide, as well as to the administration's efforts to extend temporary humanitarian parole to more people in the Caribbean and Central America, including a recently-announced expansion of family reunification parole for nationals of Colombia, El Salvador, Guatemala, and Honduras.
Advocates for migrants have argued that the administration's new policies openly violate the rights of asylum seekers to claim asylum whenever they reach U.S. soil and contribute to unsafe and unsanitary encampments on the Mexican side of the border. The Department of Homeland Security (DHS) has estimated that there are 104,000 migrants currently in northern Mexico who are attempting to reach the U.S. The conditions that cause migrants to leave their home countries, including economic instability and the threat of gang violence, have generally not abated.  
The ongoing dispute over the legal basis for the Biden administration's new asylum restrictions reflects a tension between two aspects of asylum law: asylum seekers have a legal right to claim asylum upon arriving in the U.S. "whether or not at a designated port of arrival," but the Attorney General has a right to deny asylum to someone who can be removed to a "safe third country" where the individual would have a chance to apply for asylum.  
Biden's current policy is to selectively enforce the "safe third country" clause only against those who don't use CBP One to make an appointment at a port of entry. The administration's goal is to deter asylum seekers from showing up in scattered or remote locations along the border, which strains Border Patrol manpower, resources, and transportation. 
Opponents of this policy argue that the "safe third country" clause only works when the country of removal is, in fact, safe for asylum seekers. For example, a report published by Human Rights First in mid-July found that migrants in Mexico face unsanitary conditions and serious risk of kidnapping, rape, torture, and other violence. Contentions over the determination of "third country" safety led a federal judge to repeatedly block attempts to use the clause to restrict asylum during the Trump administration. Not surprisingly, the same judge ruled against the Biden administration on July 25. The judge has delayed his ruling for 14 days to give the administration time to appeal. This is the beginning of what is likely to be a long and precedent-setting battle over Biden's new asylum restrictions — a battle that will shape the future of the asylum system as a whole. 
8:

Number of Supreme Court justices who sided with the Biden administration over its internal immigration enforcement priorities. 
Amid major decisions from the Supreme Court in the last two months on affirmative action, student debt relief, and state power in federal elections, the justices' decision on the Biden administration's executive discretion on immigration enforcement had a much quieter public reception. However, the ruling will clear the way for the Biden administration to begin implementing a policy that has been blocked for almost two years. 
As early as President Biden's inauguration day, the new administration broke with the Trump administration's policy of targeting all individuals in the country without authorization and instead began directing ICE agents to prioritize for apprehension and removal individuals posing a threat to national security or public safety, as well as recent border crossers. "The fact [that] an individual is a removable noncitizen… should not alone be the basis of an enforcement action against them," wrote Sec. Mayorkas in a second memo from September of the same year. However, the new guidance was almost immediately halted by a lawsuit from state attorneys general in Texas and Louisiana. 
Although the justices split on their rationale, all but Justice Alito ultimately ruled in favor of the federal government on June 23, pointing to the constitutional right of the federal government to decide "how to prioritize and how aggressively to pursue legal actions against defendants who violate the law." Writing for the majority, Justice Brett Kavanaugh acknowledged that the federal government does not have the resources to pursue every noncitizen eligible for removal, writing, "That reality is not an anomaly—it is a constant." He pointed out that for decades, every presidential administration has set its own priorities on immigration arrests.
A report from the Migration Policy Institute released in July underscored the critical role of prosecutorial discretion in managing the country's drastically overburdened immigration court system, which now has more than 2 million cases pending. "By encouraging… ICE attorneys to focus on high-priority deportation cases, lower priority removal cases can be terminated," the authors wrote. "This speeds final resolution of priority cases, bringing faster removal for those found deportable and quicker relief for those who qualify." 
34.3:

Points by which former President Trump leads Florida Gov. Ron DeSantis in polls for the 2024 Republican presidential nomination. 
On June 26, Florida Gov. Ron DeSantis released the immigration platform of his campaign for the 2024 Republican presidential nomination. Although DeSantis trails former President Trump by 34.3 points in early polls, the platform sets the tone of a race-to-the-right on immigration in the presidential campaign, with both top candidates vying to put forward ever-more hawkish policies on border security. 
DeSantis's campaign platform includes calls to end birthright citizenship, finish building a wall on the U.S. border with Mexico, and detain migrants until their hearings in immigration court. His platform also puts forward a drastic plan for combating drug smuggling, arguing that it is appropriate to prevent the synthesis of fentanyl in Mexico by using the Navy and the Coast Guard to "block precursor chemicals from entering Mexican ports," and to meet drug-smuggling operations with "use of force." At a press conference, DeSantis announced, "If the cartels are cutting through the border wall, trying to run product into this country, they're going to end up stone-cold dead as a result of that bad decision." DeSantis's platform mirrors ideas previously advanced by former President Trump, who accused the candidate of copying his policies. Like Trump, DeSantis would likely face significant legal obstacles if he tried to advance many of the hardline positions in his platform.