IMMIGRATION NEWS BY THE NUMBERS – sEPTEMBER 2022
October 3, 2022 – By Ariel Miller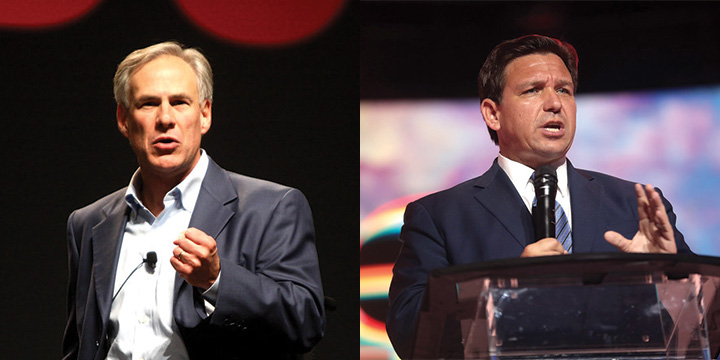 11,000+:

The number of migrants Texas Gov. Greg Abbott has bused to northern "sanctuary cities." 
On September 14, Florida Gov. Ron DeSantis captured national attention when he used state funds to transport 50 recently arrived migrants from San Antonio, Texas, to Martha's Vineyard, Massachusetts, a destination with an image as a haven for wealthy Democrats.  
Although DeSantis's intervention pushed the relocation of migrants into the spotlight, the scale of his Martha's Vineyard flights is dwarfed by Texas Gov. Greg Abbott's busing campaign, which, during the last six months, has sent more than 11,000 recently arrived migrants to "sanctuary cities" such as New York City, Washington, D.C., and Chicago, without prior coordination with city officials. Advocates have voiced concern that moving people interstate could prevent them from receiving important paperwork, such as notices to appear in immigration court, or from attending court dates in other states, which could scuttle their bid to stay in the U.S. 
Unlike Abbott and Arizona Gov. Doug Ducey, who began sending his own buses shortly after the Texas program started, DeSantis doesn't represent a state that shares a border with Mexico, and claimed to be motivated by the need to preempt migrants in Texas from traveling to Florida. Ideaspace explored potential legal considerations of DeSantis's flights in an article last week. 
The migrant relocations have been criticized as political theater— Abbott and DeSantis are both running for reelection this year and are rumored 2024 Republican presidential candidates. The brinkmanship largely overshadows practical questions at the heart of the debate: namely, how to provide resources for large populations of migrants in communities on our southern border whose service providers and government facilities are already over capacity, and how to facilitate transportation so individuals can reach supportive family members or sponsors throughout the U.S. The city of El Paso has also begun chartering buses to send migrants to northern cities, although in contrast with Gov. Abbott, it does so in collaboration with the destination city officials. In just over a month, El Paso has relocated more than 5,800 migrants. At the federal level, some DHS officials are pushing the Biden administration to move up a plan to help relocate migrants from border cities to their desired destinations.
84%:

Percentage by which the Biden administration fell short of its 125,000 refugee cap for fiscal year 2022 
Last month, the Biden administration announced that it would set the refugee cap for fiscal year 2023 at 125,000, the same number as in 2022. However, as fiscal year 2022 closed out on September 30, the administration had only admitted 19,919 refugees, up from 11,411 refugees admitted the year before. The low numbers reflect an administration struggling to reboot the refugee program after major cuts during the Trump era, when a third of the country's refugee resettlement agencies closed down, and in the face of major influxes of asylum seekers and Afghan allies. 
In 2023 the Biden administration is looking to expand a program which would allow private citizens to sponsor refugees for admission. The "sponsor circle" program was developed last year as a partnership between the State Department and non-profit organizations, and was mobilized first to support Afghan allies, then Ukrainians fleeing war. 
800+:

The number of people who died attempting to cross the U.S.-Mexico border this year. 
Fiscal year 2022, which ended on September 30, saw a record number of people die while attempting to cross the U.S.-Mexico border. The fatalities, which senior Border Patrol officials estimated at more than 800, substantially surpassed last year's record-setting 557 deaths. Additionally, Customs and Border Protection (CBP) carried out 20,464 search-and-rescue operations in fiscal year 2022 on the southwest border to retrieve migrants from dangerous terrain — a nearly 60-percent increase from the year before. 
This year also saw a rising number of migrant deaths along sea routes to the U.S. — a statistic that the U.S. government does not track. In 2021, the International Organization for Migration reported the death or disappearance of 67 migrants in the Caribbean Sea. In the last twelve months, news stories from disparate sources reported more than 100 migrants who died or went missing in the Caribbean (from capsized or disappeared boats reported in January, March, April, May, July, August, and September). 
The high fatalities reflect record numbers of people migrating to the U.S. along dangerous and irregular routes. As of August, CBP surpassed 2.15 million apprehensions on the southwest border for fiscal year 2022 — 400,000 more than the previous year. In August, the Coast Guard reported that they had interdicted more than 6,100 Haitian migrants at sea in fiscal year 2022, quadruple the number interdicted in 2021.