IMMIGRATION NEWS BY THE NUMBERS – April 2023
May 1, 2023 – By Ariel Miller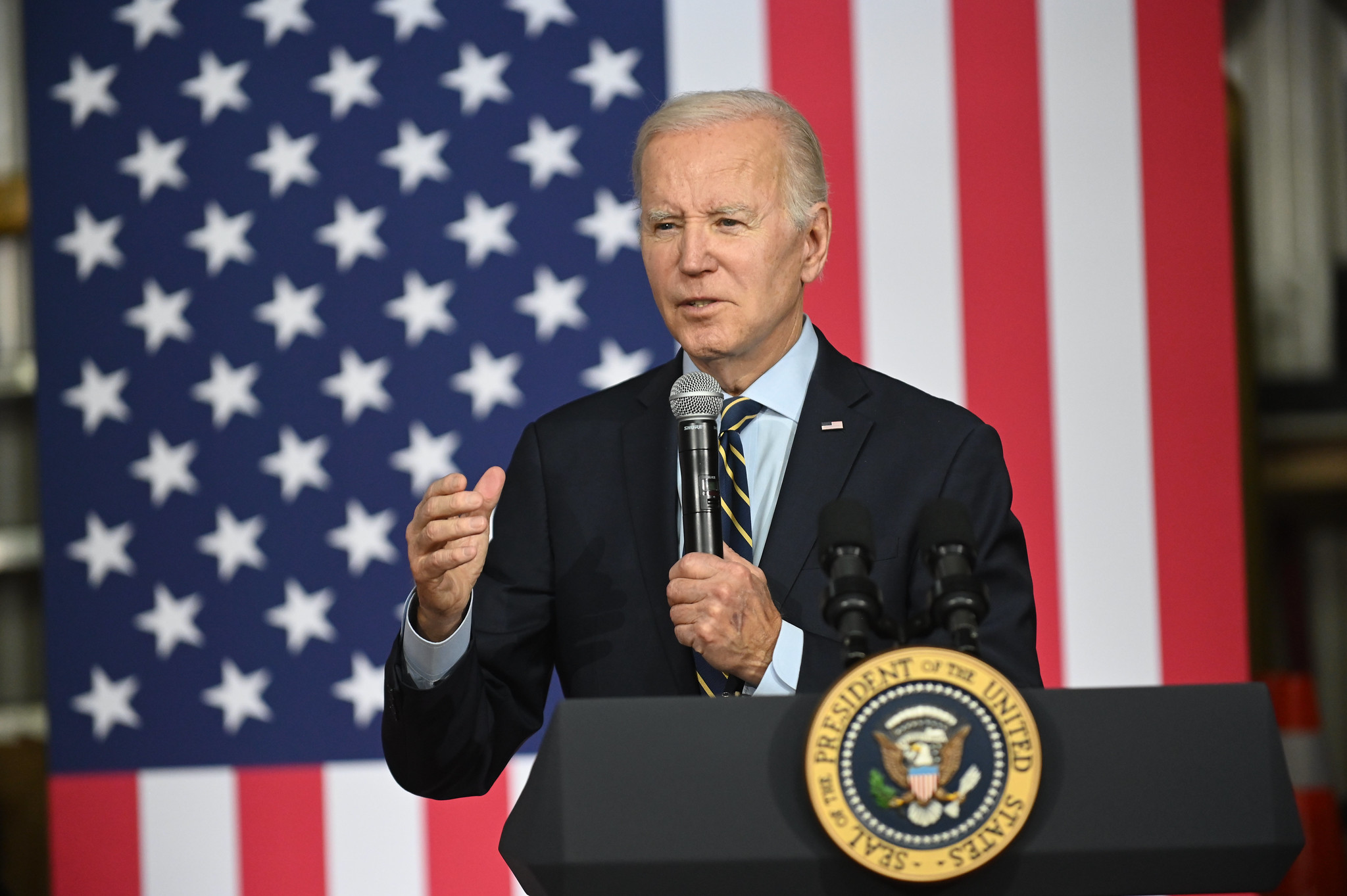 27%

: Share of Americans who approve of President Biden's handling of immigration, according to an April poll.
President Biden formally announced his campaign for reelection on April 25. The president has particularly low ratings on immigration: According to a Reuters/Ipsos poll conducted the past month, only 27 percent of Americans approve of his handling of immigration. But from state legislatures to the House of Representatives, the Republican Party is struggling to come together on its immigration priorities and present a united opposition to the Democrat's immigration platform. 
In April, House Republicans introduced a bill that sought to tie together a comprehensive slate of Republican goals on immigration and border security. The bill would restrict asylum eligibility for migrants who have traveled through a "safe third country" without applying for asylum in that country; require asylum seekers to present at ports of entry; impose a $50 asylum fee on adults; allow migrant children to be detained with their parents; and add extra criteria for employers to verify that employees have work authorization. The bill would also crack down on President Biden's use of temporary humanitarian parole by barring grants of parole for "entire class[es] of potential parole recipients."
However, the bill faces pushback, both from business interest groups and holdout lawmakers. Though the party has a five-seat advantage, as many as a dozen House Republicans reportedly oppose the bill, according to anonymous sources who spoke to the Washington Post. In a letter to Judiciary Chairman Jim Jordan obtained by the Post, the American Farm Bureau Federation, an influential agricultural lobbying group, estimated that the bill's work authorization verification provisions would cause food prices to rise by 5 to 6 percent. 
State legislatures are similarly struggling to unite behind strict reforms. Even in Florida, where Republicans control both chambers of the legislature, lawmakers this month ultimately softened an immigration bill that was set to be one of the nation's harshest. The bill captured headlines for its provisions to make E-Verify mandatory for every employer in the state, require hospitals to record patients' immigration status, and bring felony charges against anyone in the state who houses, hires, or transports undocumented immigrants. After fierce opposition, however, the legislature rewrote the bill to punish only those who transport into the state individuals who have entered the U.S. "without inspection by the Federal Government," and exempted the E-Verify provision for businesses with fewer than 25 employees. Florida Gov. Ron DeSantis, an immigration hardliner known for his increasingly provocative legislation, is expected to announce later this month his candidacy for the Republican nomination for president. 
360,000

: Expected number of Venezuelans, Cubans, Nicaraguans and Haitians who will enter the U.S. through the Biden administration's

temporary humanitarian parole program

by the end of 2023. 
On April 27, the Biden administration announced that it would expand a longstanding family reunification parole program. Previously open only to Cuban and Haitian nationals seeking permission to join their lawful permanent resident or U.S. citizen family members, the program will now open to Guatemalan, Salvadoran, Honduran, and Colombian nationals. The policy represents yet another expansion of the administration's use of temporary parole, circumventing a deadlocked Congress to create lawful pathways for immigration. 
By the end of 2023, approximately 360,000 Venezuelan, Cuban, Nicaraguan and Haitian nationals are expected to enter the U.S. through the administration's humanitarian parole program, initiated in October 2022 and expanded in January 2023. Another 300,000 Ukrainians have entered the country since the Russian invasion began in February 2022, many through the administration's Uniting for Ukraine parole program, while approximately 75,000 Afghans have arrived through a program designed for evacuees. The Biden administration has also renewed or expanded Temporary Protected Status (TPS) for approximately 670,000 individuals. 
While these numbers represent increases over recent years, they are still modest totals compared to the number of migrants — particularly those enrolled in refugee programs — that are taken in by other countries. Consider that in the last decade, Colombia, with a population of 51.5 million, has taken in 2.5 million Venezuelan refugees. If the U.S. took in Venezuelan refugees at the same per capita rate it would mean welcoming 16 million migrants. 
The new parole expansions are part of the administration's attempt to prevent migrants from traveling to the southern border to claim asylum, and instead to open pathways for individuals to apply from abroad. Ahead of the impending end of Title 42, the Biden administration announced that it will open regional processing centers in Colombia and Guatemala, where officers can determine migrants' eligibility for admission into the U.S. through parole or the traditional refugee system. Ideaspace covered early efforts to manage migration through regional processing in March 2022. The administration will also cooperate with Panama and Colombia on a two-month program aimed at halting migration through the Darien Gap, although their announcement gave few further details. Last year, more than 250,000 migrants traveled the treacherous route. 
⅓+

: Estimate of the portion of DACA enrollees who

do not have health insurance

, according to HHS.   
On April 24, the Department of Health and Human Services (HHS) released a proposed rule that would allow DACA recipients to access government-subsidized health insurance through the Health Insurance Marketplace and Medicaid. According to HHS estimates, while only 8 percent of Americans are uninsured, more than a third of DACA enrollees do not have health insurance. About 580,000 individuals were enrolled in DACA at the end of 2022. 
Republicans staunchly oppose providing government-subsidized public health and welfare benefits to immigrants, especially undocumented immigrants, arguing that doing so unfairly directs expenditures away from tax-paying citizens and encourages unlawful migration. In 2009, President Biden was sitting behind former President Obama when the 44th president gave a speech to Congress about the development of the Affordable Care Act. When Obama claimed that the program would not benefit undocumented immigrants, Republican Rep. Joe Wilson of South Carolina infamously shouted, "You lie!" 
Democrats, on the other hand, are more likely to support providing some benefits to undocumented immigrants, arguing that doing so can prevent child poverty and lighten the load on overburdened emergency rooms. Eleven states offer medical coverage to children regardless of immigration status, including California, New York, and Illinois. A 2022 study found that connecting a group of about 2,500 undocumented immigrants with primary care clinics reduced their usage of emergency room care by 21 percent over the next 14 months. Another study concluded that immigrants, including undocumented immigrants, generally pay more into the health care system than they use.