IMMIGRATION NEWS BY THE NUMBERS – October 2022
November 1, 2022 – By Ariel Miller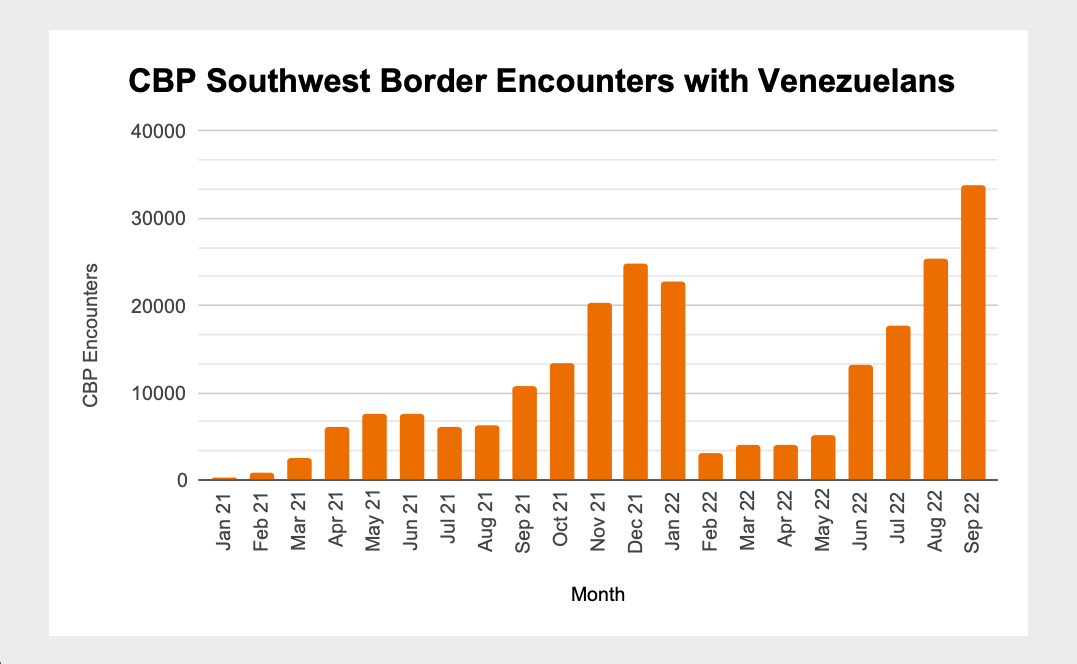 24,000: The number of Venezuelan migrants the Biden administration will accept for humanitarian parole through its new "sponsor circle" program. Last month alone, Customs and Border Protection (CBP) encountered approximately 34,000 Venezuelan nationals at the southwest border.  
Fiscal year 2022, which ended September 30, saw an unprecedented rise in the number of Venezuelan migrants crossing the southwest border — in total, CBP encountered approximately 188,000 Venezuelans, almost four times as many as in 2021. While the majority of migrants arriving at the border continue to be expelled to Mexico under Title 42 — including nationals of Honduras, Guatemala, and El Salvador — until mid-October, Mexico did not accept expelled Venezuelan migrants. Nor could the U.S. operate deportation flights to Venezuela, which severed diplomatic ties with the U.S. in 2019. As a result, Venezuelans were almost universally admitted to the U.S., awaiting severely backlogged immigration court dates. 
To curtail the influx of Venezuelans at the border, on October 12 the Biden administration announced that the U.S. will accept 24,000 Venezuelans for humanitarian parole. Potential beneficiaries need to be approved for the program, find private sponsors to support them once they arrive, and book their own plane tickets to arrive at a U.S. airport. Meanwhile, Venezuelans arriving at the border will be expelled to Mexico under Title 42. The administration sweetened the deal for Mexico with the simultaneous announcement of an additional 65,000 nonagricultural work visas, something Mexican officials pushed for earlier this year.  
The program had an immediate and drastic effect: U.S. officials reported that the number of Venezuelans entering U.S. custody fell 86 percent in the week after the order was announced. 
The sponsorship program disqualifies Venezuelans who have crossed the southern border into the U.S.; have been removed from the U.S. in the last five years; or have illegally entered Mexico or Panama. Venezuelans are also required to have a valid passport. The cost of a passport in Venezuela is $200. Employees in Venezuela's public sector, which employs about 2.2 million people, make about $20 to $30 per month. 
The United Nations reported that in the first 10 days of the new policy, 5,100 Venezuelans were expelled to Mexico. According to one Mexican official, Mexico has only agreed to accept as many Venezuelans as the U.S. accepts into the sponsor circle program — suggesting that the administration's 24,000-person cap could quickly become a point of contention. The administration did not put a cap on a similar sponsorship program for Ukrainians earlier this year (a program that Ideaspace touched on in the September edition of this column). Mexico is encouraging the U.S. to expand the program, to reopen its diplomatic relationship with Venezuela, and to ease sanctions against that country. 
Critics have blasted the expansion of Title 42, which the Biden administration sought to end as recently as May. Sen. Bob Menendez said the move "adds salt to an open wound while further eroding our asylum system that President Biden promised to restore." In a newly released transcript from a closed-door congressional interview in May, the CDC's expert on public health and migration said he did not sign off on Title 42 when it was initiated during the Trump administration, saying that his office did not find enough evidence to justify the order on public health grounds. 
$150,000: The amount the city of El Paso spent per day to provide transportation, food, and temporary housing to migrants between August 23 and October 20. 
On October 20, the city of El Paso announced that it would suspend its busing program and close its migrant welcome center following the Biden administration's new Title 42 expansion for Venezuelan migrants. During the height of the migration spike in September and early October, with detention centers stretched far beyond capacity, CBP released sometimes more than 1,000 individuals per day into the care of the city and local NGOs. When the city and NGOs exceeded capacity, CBP released migrants onto the street near bus stations and airports. After the Biden administration's new policy toward Venezuelan migrants went into effect, a city spokesperson said in connection with the termination of El Paso's busing program that CBP had "discontinued sending migrants to the City this week."
El Paso spent $8.86 million on its migration response program between August 23 and October 20, transporting 13,972 migrants to destination cities and processing a total of 19,329 migrants through its welcome center. The city has stated it expects FEMA to fully reimburse the expenses, but so far has only been reimbursed for $2.2 million. 
El Paso officials have sought to dissociate their program from Texas Gov. Greg Abbott's program to bus recently arrived migrants to northern cities. As of October 21, Gov. Abbott reported his program has bused 12,600 migrants to northern cities since April.
1,000: Number of employees losing work authorization per business day for the next two years if DACA is rolled back. 
On October 5, a panel of judges for the Fifth Circuit Court of Appeals ruled that the DACA program is illegal, affirming a lower court decision from last year. However, the ruling allowed those already enrolled in the program to continue to renew their protected status while the case is sent back to a lower court. The lower court will decide on the legality of DHS's August regulation to "preserve and fortify" DACA. 
It's a confusing state of affairs, one in which the program's status has been weakened without yet causing any material difference for the approximately 600,000 people already enrolled in the program. The program will likely have to go before the Supreme Court before a final outcome is decided. In 2016, the court blocked the Obama administration from expanding the program to include parents of DACA recipients, while in 2020, the court prevented then-President Trump from terminating DACA after it ruled his administration had failed to follow proper procedure. 
An October 20 letter signed by 88 major businesses, chambers of commerce, and advocacy groups warned that should DACA end, the rolling expiration of current enrollees' work authorization status would mean 22,000 employees would be forced out of their jobs every month for two years in an economy already facing labor shortages. One 2017 figure from the Cato Institute, a libertarian think tank, estimated that companies would have to spend $6.3 billion recruiting, hiring, and training new employees if they lose their DACA-enrolled employees.