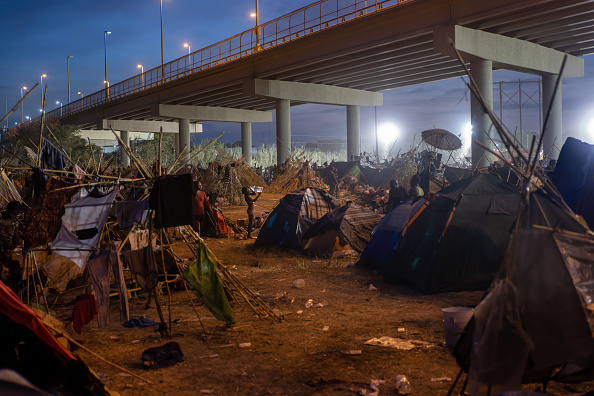 In September of 2021, Americans on both sides of the political divide were horrified by images from a dusty encampment just outside of the border town of Del Rio, Texas, where upwards of 14,000 migrants — mostly from Haiti by way of Latin America — overwhelmed U.S. immigration authorities. 
Immigration doves were dismayed by the squalid living conditions at the encampment and the draconian scenes of U.S. Border Patrol agents on horseback wrangling migrants, while immigration hawks objected to the great numbers of migrants trying to enter the country en masse.
Sadly, such scenes are likely to become commonplace as climate change, war, and political and economic upheaval continue to drive migration. The scene at Del Rio, for example, was not just a consequence of the violent coup that took place in Haiti three months prior, but of devastating earthquakes in 2010 and 2021 that aggravated pervasive poverty and prodded a large number of desperate Haitians on an arduous journey in search of better prospects that ultimately brought them to the U.S. border.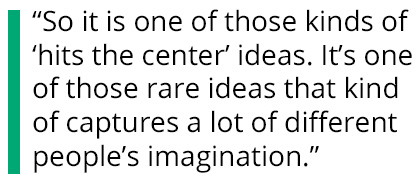 One potential solution that may have appeal on both sides of the political aisle is the idea of Regional Processing Centers (RPCs) — strategically placed safe havens closer to points of departure, where would-be migrants can find refuge to begin and, at least in some cases, complete the immigration authorization process, thereby avoiding a dangerous journey and reducing the pressure on immigration authorities at the U.S. border. 
The appeal for immigration hawks is obvious. An RPC system would divert some migrants away from unauthorized entries and reduce the number of asylum seekers awaiting adjudication of their claims within the U.S., a goal shared by Donald Trump's Migrant Protection Protocols, colloquially known as the Remain in Mexico program. Under that program, those with an asylum claim are required to wait in Mexico for the result of their application. Additionally, RPCs would be a multinational effort, affording migrants the opportunity to apply for residency in various receiving countries, thereby alleviating some of the strain on the U.S. system.
The appeal for immigration doves is less obvious, but no less compelling. "Dealing with migration at the destination point of the migrant is probably the least successful way of creating a safe and orderly system," says Amy Pope, who served as Senior Advisor on Migration to President Biden before becoming Deputy Director General of Management and Reform of the International Organization for Migration (IOM) in September of 2021. "If your goal is, 1., to find alternatives to people taking what is a very dangerous pathway and, 2., to ensure that the border is managed in a more orderly fashion and, 3., do a better job of placing vulnerable migrants and migrants who offer skills that are needed in the host country, then I think this [RPC] model can provide some good options."

What follows is an exploration of what it would take to create a robust network of Regional Processing Centers capable of servicing migrants who fit into a full range of U.S. immigration categories, and an examination of existing programs whose best features could be stitched together and scaled up to create a paradigm shift in the U.S. immigration system. Such a shift would reflect awareness that U.S. involvement with migration must begin far beyond our borders. A network of RPCs could reduce the strain on our overburdened asylum adjudication process and avoid a reprise of the scenes at Del Rio that left immigration activists, Republican and Democrat alike, aghast.
***
While RPCs could service a variety of visa requests, it is most crucial that they service the two categories that drive most of the traffic to the U.S. southern border: migrants seeking safety and migrants seeking work. At present, economic migrants are often funneled along with asylum seekers through asylum adjudication, which puts undue strain on a process already beleaguered by an infamous backlog of 670,000 pending cases. Alleviation of structural over-demand on this adjudication process inexorably asserts itself as a desperate need of the U.S. immigration system.
"Basically, everyone who arrives and says they're an asylum seeker is [treated by the U.S. as if they are indeed] an asylum seeker," says Ben Rohrbaugh of New Macro Risks, an organization that consults with government agencies on how to manage homeland security. "[But] that is not really true for a lot of people from Central America. Not to say that they don't have valid reasons for migrating. If you're coming to the United States because a coffee harvest has failed and you're in danger of starving, that is a great reason to migrate but that is not an asylum category. We do not have a category of asylum for being desperate for economic reasons."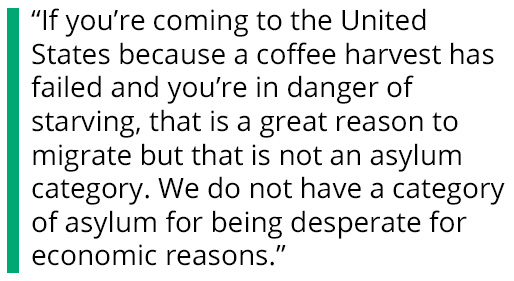 Rohrbough, who previously worked for the National Security Council and on the Biden transition team, emphasizes the same fundamental point echoed by nearly all experts who spoke with Ideaspace about RPCs: If the model is going to work, it must include these two tracks for entry applications, because without including economic migrants for processing at RPCs, substantial traffic would still flow to the U.S. southern border, as those seeking work would continue looking for opportunities to make unauthorized crossings, or to apply at the border for asylum. 
Completing adjudication of any visa application offered at a hypothetical RPC would certainly not happen overnight. The process would likely take weeks to complete, if not months — a significant amount of time but a fraction of the average 4.5-year waiting period experienced today by those who have made asylum claims. This processing time is a significant factor because during this period, migrants need access to shelter, food, and healthcare — at a bare minimum. Fulfilling such a large role would require the center to be a residential complex with adequate infrastructure, expert staffing, and a budget equal to the task. If such support services cannot be provided, such a facility runs the risk of feeling less like an attractive way station and more like a refugee camp.  
Migration experts agree that successfully organizing and operating such residential facilities would have to be spearheaded by international organizations with prerequisite expertise, such as IOM or the United Nations High Commission for Refugees (UNHCR). One of these agencies, if not both, would be essential for their institutional expertise and because organizing each RPC would involve more than one nation-state; each country's responsibilities and cooperation would have to be negotiated and, in the long term, monitored. The most efficient way to build a network of RPCs in several countries would be to work with one or more of the international organizations to mobilize a major multinational effort with funding from all stakeholders.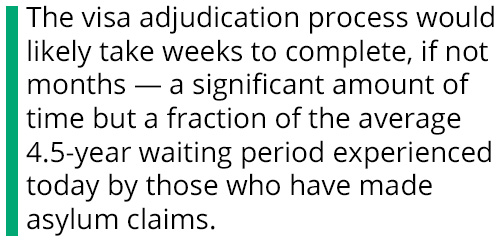 "You need to get the agreements at the diplomatic level," says Pope. "At IOM we've done this. We engage in a lot of different ways: transporting migrants, providing shelter, providing 'know your rights' information. We can help process migrants in a comprehensive way." 
The commitments of each participating country would initially be developed in a Memorandum of Understanding (MOU). Countries that have agreed to receive migrants, including the U.S.,  would articulate caps, both for those seeking safety and for those seeking employment. Each receiving country would agree to give legal residency — in some cases temporary — to applicants qualifying for admission to that country under enumerated immigration categories. In countries of origin (that is, the places migrants are fleeing), if government institutions cannot be counted on for cooperation — in some cases migrants are fleeing political violence — civil society organizations (non-state, not-for-profit NGOs) would be essential for disseminating information about the RPCs and helping to organize secure, temporary housing and transportation to the country hosting the RPC. 
A fundamental prerequisite of the RPC approach is to get enough countries to host the centers. Pope stresses that while it's important to make sure an initial pilot program is not too big to manage, it would need to include multiple RPCs in a targeted region from the beginning.   

"Having just one creates increased pressure on that one place," she says, "and then it serves as a magnet for everybody who's coming. That creates a ripple effect within that host community. You've got to manage that because you don't want to fuel anti-migrant sentiment by having hundreds and thousands of migrants coming into one particular area."
Pope adds that multiple centers are required because there is never just one path of migration. "Migrants are going through multiple routes as they transit. So there's homework to do about what routes they're taking and where they're going to most likely find this information and to have access to it."  
There are existing programs that demonstrate what RPCs could offer on varying scales. There is at least one example of a center providing substantial support services for a high-vulnerability displaced population, but others play a role that is more modest and specialized in scope. Three examples are discussed below that demonstrate this wide programmatic range. Together they serve as instructive models and suggest elements that might indeed be stitched together in varying ways. The overarching goal would be to develop an array of RPCs capable of alleviating pressure on the U.S. border and especially its overwhelmed asylum adjudication system.  
1.)  Central American Minors Program
In 2013, about 20,000 unaccompanied minors arrived at the U.S. southern border; that number more than doubled to 51,705 a year later. Most of them were fleeing violence from the Northern Triangle. Honduras alone saw a 160-percent increase in gang-related homicides in 2014. 
The droves of young people showing up at the U.S. border in 2014 became a national flash point, similar to the critical mass of Haitians in Del Rio in 2021. Anti-immigration protesters faced off with government officials near the border, blocking buses transporting the young migrants for processing. 
As part of a larger response to the situation, the Obama administration worked with UNHCR and other partners to establish the Central American Minors program, or CAM. The program provided a way for minors from the Northern Triangle to apply for legal status in the U.S. from their home countries. It was a narrowly-framed pilot program limited to applicants who already had a parent or relative with legal resident status in the U.S., and the requests were processed through U.S. consulates. 
President Trump canceled CAM in 2017 but in the three years that it ran, 10,500 applications were processed and 3,092 minors were granted legal entry into the U.S. An additional 2,500 were also granted entry but were unable to travel before the program was canceled and the visas rescinded. Last year, the Biden administration began the process of restarting the program after a five-year hiatus. 
CAM applicants are not eligible for asylum because they're not making their request on U.S. soil — asylum seekers are strictly defined as migrants who reach the country where they wish to settle and present themselves to a government official. The CAM program offered the young migrants two alternatives for entry. The first was refugee status. Refugees are differentiated from asylum-seekers by the fact that they gain legal status in a country before arriving there. The second entry option for CAM applicants is the lesser-known "humanitarian parole" program, which allows migrants who don't have visa options to apply for entry into the U.S. for a temporary period for "urgent humanitarian reasons or significant public benefit." Examples of "humanitarian reasons" provided by United States Citizenship and Immigration Services include being an organ donor for a lifesaving surgery, visiting a dying loved one, or fleeing targeted violence. 
After CAM was originally implemented, there was still ebb and flow with the number of unaccompanied minors arriving at the border but, overall, the numbers went down. In 2015, just a year after CAM went into effect, there was a 45-percent decrease in the number of unaccompanied minors arriving at the border. Now that the program has been re-started by the Biden administration, its further implementation might provide more modeling for RPCs.
2.) The Protection Transfer Arrangement Program 
A more ambitious programmatic option with a residential component is the Protection Transfer Arrangement program (PTA). UNHCR created a PTA center in 2016 as a response to the increasing number of people — not just unaccompanied minors — fleeing violence in the Northern Triangle.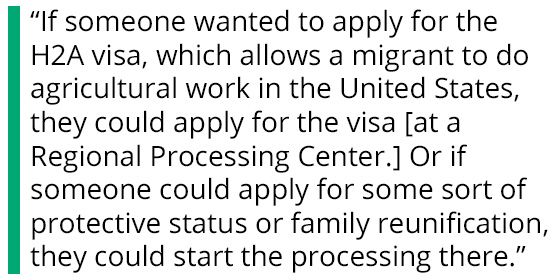 According to a 2018 report evaluating the effectiveness of PTA, UNHCR was seeking to implement an "innovative protection mechanism" to help resettle a small number of people identified as being at a heightened risk in their home country. 
Attempting to pre-empt the dangerous journey to the U.S. border, PTA identifies individuals who qualify for the program, transfers them to a processing center in Costa Rica, and matches them with one of the receiving countries participating in the program. 
Accomplishing these three things — identification, transportation, and durable placement — requires several stakeholders: receiving countries, Costa Rica as the main transit country, UNHCR and IOM, and hyper-localized civil society organizations in the Northern Triangle countries that execute some of the initial, and most exhaustive, phases of work identifying heightened-risk individuals.
"Civil society organizations across the country inform UNHCR offices in-country," says Emmanuelle Diehl, who conducted the 2018 UNHCR report evaluating the PTA program.  "And that also puts people at risk, those who are supporting, hosting, and hiding these witnesses or vulnerable people."

According to Diehl, civil society organizations would need additional training and support in order to assimilate the work they're doing into a bigger RPC model. The work of identifying and transporting at-risk migrants is highly specialized — and dangerous. In addition to the main transit center in Costa Rica, the PTA program maintains several safe houses within the Northern Triangle for those who cannot be transported quickly and safely.  
"These are small countries where everyone knows wherever they are," says Diehl. "So that requires a level of risk, and some of these civil society organization members said this is an intense job. Some of them did not have strong protocols in place in terms of security and safety. And self-care for the workers and volunteers was an issue."
Diehl says that securing Costa Rica's role as the PTA transit country was one of the biggest challenges and was made possible by two essential factors. The first was a July 2016 MOU between Costa Rica, UNHCR, and IOM. The memo limited transit time in Costa Rica to six months. The second essential component to Costa Rica's role was funding for the transit centers. UNHCR, with support from member states including an initial $2.6 million from the U.S., oversaw the budget.  
While PTA applicants wait for their cases to be decided, most of them are housed in a transit center at the University Para La Paz in Costa Rica. Applicants generally spend three or more months there and for that period of time they are not eligible to work in Costa Rica, which means their housing, food, healthcare and education needs have to be met. The government of Costa Rica, says Diehl, goes a long way toward making that happen. "They [have] English lessons, all sorts of lessons to keep them busy," says Diehl. "You need to have protection officers, you need to have legal counselors that are there to support the processing, doctors for psychological needs, and child support workers. Also Costa Rica was actually contributing quite a lot from tax money — they were giving them access to healthcare."

Through this comprehensive approach, the PTA program demonstrates how to bring a multi-faceted, multinational collaboration together. "It requires a lot of time," says Diehl, "because you need to build the capabilities of the civil society organizations, you need to vet those organizations that actually would be willing to take the risk, because it's one thing to host women who've been victims of sexual violence, or children that have been victims, but you're talking about people of high risk, usually involved in gang violence testimonies, witnesses of political corruption."
While PTA has expanded over time, it remains modest in size — again, serving only the most vulnerable, who represent just one small subset of all the migrants in the region looking for resettlement. From 2016 to 2018, the period evaluated in Diehl's report, PTA resettled 286 individuals, predominantly in the U.S., Canada, Australia, and Uruguay. That's roughly 15 percent of the 1,885 people who were considered for the program. The remaining 85 percent were either rejected by a resettlement country or were still awaiting a final decision when Diehl's report was published. 
While the possibility of scalability is admittedly low, PTA provides a promising model for the complex type of international agreements that a pilot RPC program with services would require; it also models the work of identifying potential refugees and achieving the logistics for successfully transporting, housing, and generally supporting migrants awaiting resettlement. 
3) The Migration Resource Center
The final existing model to consider is the Migration Resource Center (MRC). Operated by UNHCR and IOM, MRCs are focused not on processing migrants for resettlement but simply providing them information regarding their rights and potential immigration options. Most such centers are located not in a consulate but in some less intimidating setting that eases access to the target audience.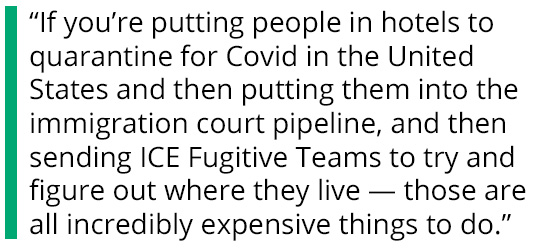 Besem Obenson, UNHCR's operational representative in Guatemala, says they operate MRCs at all the key border points. "Bus stations right at the border, and through the transit migrant routes in areas of high out-migration," she says. "The key is that they're context-specific."
Obenson highlights that while MRCs don't have processing capabilities, they do help migrants connect with asylum opportunities — and not just in the U.S. "Sometimes people don't know, for example, that they can file for asylum in Guatemala. That they can get access to work permits, that they can actually get international protection in Guatemala." 
If some of the physical infrastructure of PTA and the processing capabilities of CAM were brought to bear at an MRC, it starts to paint a picture of what a fully realized RPC system could look like.
"You could imagine trying to build MRCs out, build them bigger," says Stephanie Leutert, Director of the Central America and Mexico Policy Initiative at the University of Texas at Austin. "Because you do have these centers where they're supposed to be connecting people to different programs and services. So you could imagine, in a different world, trying to build them into something a lot more ambitious."
Amy Pope says that increasing the MRCs operating capacity would be in keeping with IOM's long-term vision for them. "The intent is, and has been," she says, "that they would become a more robust starting point that would provide not just information. If someone wanted to apply for the H2A visa, which allows a migrant to do agricultural work in the United States, they could apply for the visa there. Or if someone could apply for some sort of protective status or family reunification, they could start the processing there."
 ***
It's important to underscore that the idea of RPCs is defined by a preventative approach. Processing migrants before they complete a journey to a destination country has been done before, most notably with Australia's "off-shore processing" of migrants on Manus Island in Papua New Guinea. But this model was much more reactive than proactive. A commercial ship, the Tampa, was stranded at sea, packed with rescued migrants who sought asylum in Australia, but the Australian government did not want them to come ashore. The substandard conditions on Manus Island, the delays, and the lack of access to Australian territory were all criticized by several international organizations, including UNHCR.
"We support all sorts of solutions," says Sibylla Brodzinsky, a communications officer for UNHCR, "but anything that might replace accessing territory — in the United States, for example — we would find difficult to support."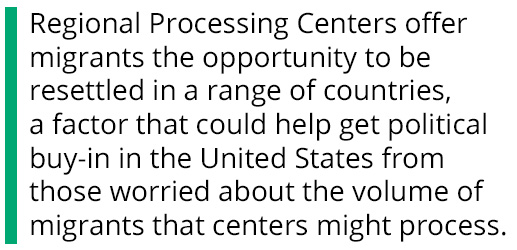 Brodzinsky emphasizes that while RPCs might be able to save many migrants from making dangerous journeys and help them find resettlement opportunities closer to home, the right to reach any given nation-state's soil and request asylum is fundamental and should be preserved. Some migrants, she points out, might have circumstances that necessitate making a claim at a port of entry. 
RPCs would certainly preserve the right to access any country's border but the centers would work to divert as much of that traffic as possible — and in a proactive way, as opposed to a reactive approach like Australia's handling of the Tampa. Using data and international relations, RPCs would be tasked with anticipating major migratory movements before they happen and strategizing responses. 
"Processing centers would help us avoid the chaos at the border," says Alan Bersin, former Customs and Border Protection Commissioner and "Border Czar" appointed by President Obama, and a founder of New Macro Risks. "Putting regional processing centers in place would stop so many migrants from paying smugglers and trans-national criminals to transport them to the border." The U.N. estimates that migrants generate a $6.75 billion-a-year industry for smugglers.
RPCs that offer support services as PTA does would also give immigration opportunities to those who are in danger but can't afford to pay a smuggler. "The people who are most in need of humanitarian protections," says Rohrbaugh, "are not people who are able to spend several thousand dollars to have guides bring them to the border. We're leaving out a lot of the most vulnerable people. We absolutely need an alternative approach."
Rohrbaugh points out another benefit of RPCs: They are, in his estimation, less costly for the taxpayer. "If you say to people, 'Look, we should just find the 100,000 most vulnerable people in Guatemala, or Honduras, and fly them to the United States every year,' the response would likely be something like,  'Well, that's a ridiculous idea, that'd be expensive — how are we going to do that?' But it's much less expensive than processing people the way we're doing it now. If you're putting people in hotels to quarantine for Covid in the United States and then putting them into the immigration court pipeline, and then sending ICE Fugitive Teams to try and figure out where they live — those are all incredibly expensive things to do."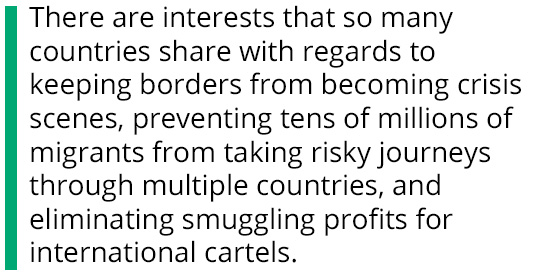 It's not just the costs of border enforcement, says Rohrbaugh, but also "hidden costs" like housing, education, and healthcare in the U.S., which is required for unaccompanied children awaiting processing and provided by Health and Human Services. "In 2021 alone, I'd estimate the cost of our asylum system is definitely into the billions of dollars," says Rohrbaugh. "Our current system is incredibly expensive. We're not really looking at the whole chain of costs when we think about a lot of this stuff." 
RPCs would, as stated, offer migrants the opportunity to be resettled in a range of countries, a factor that could help get political buy-in in the United States from those worried about the volume of migrants that RPCs might process. 
"Ideally people can find safety as close to home as possible," says Brodzinsky. "Sometimes it's not possible, but sometimes it is. There are Nicaraguans in Guatemala, or Hondurans, Salvadorians who have found safety [in Guatemala] and they're okay there. To the extent that it's possible, it's good for people to find safety and protection and integration closer to home — in a context that is more similar to theirs." Brodzinksy recalled a refugee family from Honduras that she met in northern Mexico in 2021. "The fact that they can speak the language," she says, "it makes a huge difference in everything — their kids' school, being able to work."
***
The challenges of implementing RPCs are nearly as easy to see as the benefits they would produce. "I like this idea," says Leutert, "but I'm the Grinch of this idea because I think for me, the devil's in the details. And there are so many details that are so difficult to work out." 
Leurtert points out that an RPC's greatest feature, a vast network of cooperation, is likely also its greatest challenge and that, like the U.S., each participating nation-state would be wrestling with its own political and bureaucratic dynamics. 
But the collaborative pressure is intense, too. There are interests that so many countries share with regards to keeping borders from becoming crisis scenes, preventing tens of millions of migrants from taking risky journeys through multiple countries, and eliminating smuggling profits for international cartels. 
"We have this collision," says Bersin, "between the sovereign power to control borders, which is granted and inherent in national power, coupled with a global world in which the flows of goods, people, ideas is not containable at the borderline. In a global world, you really have to engage in cooperative activities."
Before cooperation can be arranged between countries, it must first be accomplished within each nation's own bureaucracy. Some agencies are clear candidates to lead the effort in the U.S. The Bureau of Population, Refugees and Migration (PRM), housed in the State Department, is most often mentioned, but there are several other agencies that would need to participate in implementation. 
Leutert, who previously worked at PRM for the Biden administration, says that in 2021 she proposed the idea of setting up hubs in areas of high outward migration so that individuals could be connected to unused temporary worker visas. She didn't get anywhere. "That just totally died in the bureaucratic morass," she says. "This morass, this inertia toward the existing systems would be one major hurdle to overcome." 

Beyond the bureaucratic challenges, many immigration lawyers and advocates express concerns that the asylum process at RPCs be fair and credible. Rohrbaugh suggests that in order for the RPC model to work it would have to prove itself, in effect, as a legitimate opportunity for immigrating — as opposed to an easier way for governments to reject applicants from afar. "Ideally it would be better if you have a higher likelihood of being accepted at the centers," he says. "I think that's the key. People have to know [the RPCs] are legitimate options for gaining entry into another country." 
No single existing model provides all the answers. But by pulling together the very best of CAM, PTA, and MRCs, one can see the essential building blocks coming together to make Regional Processing Centers a real alternative to a status-quo system that regularly results in chaos at our southern border. As difficult as international agreements can be to achieve, the war in Ukraine demonstrates just how quickly nation-states can come together when interests align. The RPC model allows for broad alignment on migration, saving individual nation states from futilely addressing global dynamics in isolation.  
"None of these challenges are insurmountable," says Leutert. "If it could be worked out, if all the details could come together, you would have a lot of consensus from a lot of different actors. So it is one of those kinds of 'hits the center' ideas. It's one of those rare ideas that kind of captures a lot of different people's imagination."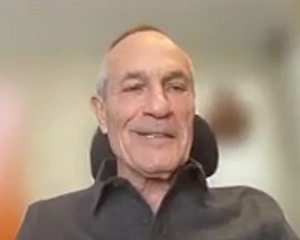 Capitol Hill Briefing No. 4