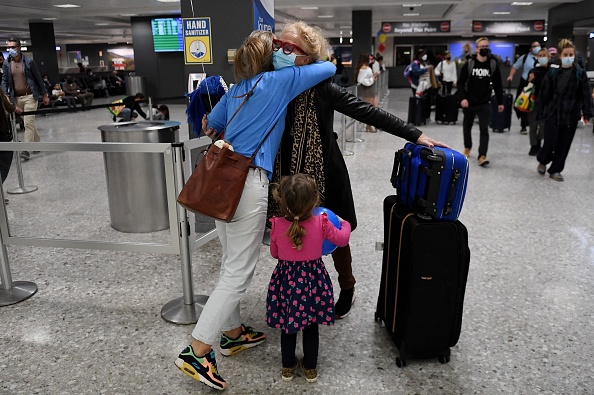 In 2016, when Samira Golsefid (pronounced góal-sah-feed) helped her Iranian national parents apply for a U.S. tourist visa so that they could visit her in Southern California, she didn't fear they would be denied. Golsefid had been in the U.S. on a Green Card for five years, she was now a full-fledged American citizen, and her PhD in data science had landed her a lucrative position at Toshiba, and later at PayPal and Silicon Valley darling 6sense.

"After living in the U.S. for five years, I simply wanted my parents to see the life I had made for myself in America," says Golsefid. "I'm a U.S. citizen, I'm thriving here, I pay taxes. But even if I'm a prisoner, I have a right to have visitors, don't I?"
According to the U.S. Consulate in Dubai, Golsefid had no such right and, pursuant to Presidential Proclamation 9645 — i.e., President Donald Trump's travel ban — the government denied her parents a tourist visa in January of 2018.
Paris Etemadi Scott, an immigration attorney based in San Jose, California, says that the Golsefid family's case is typical among the many Persian-speaking immigrants she serves, and that a high rejection rate of tourist visas for relatives of Iranian Americans long predates Trump's travel ban.
"This has been tearing Iranian families apart pretty much since the 1979 Iranian Revolution," says Scott, who serves as legal director for PARS Equality Center, a California-based nonprofit that provides legal and social services to immigrants from Persian-speaking countries.
Scott says that outside of Trump's travel ban, which was revoked on day one of the Biden administration, the U.S. government routinely denies tourist visas to relatives of U.S. citizens. She describes a catch-22 in which strong family ties give an individual a valid reason to visit while at the same time give a U.S. consulate a reason to suspect the applicant intends to immigrate.
"And for these families, when that tourist visa gets denied, they have no other option but to apply for that rigorous immigrant visa," says Scott, explaining how the government is inadvertently driving Green Card applications by individuals who have no intention to immigrate. That's exactly what happened with the Golsefid family.
"At the time, my parents were well into their 60s, they had multiple houses in Iran, and except for me, all their friends and family were in Iran," says Golsefid. "They never wanted to live permanently in the U.S."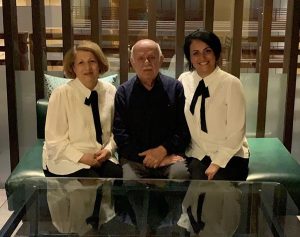 After submitting their Green Card application, Golsefid's parents waited almost three and half years before they were summoned in April of 2021 to the U.S. Consulate office in Armenia (no such office exists in Iran), where after the customary interview they expected to have their visas approved. Golsefid joined her parents in Armenia, where her father's visa was approved but her mother's was held for "additional processing." Golsefid planned to have her father join her on the return trip to California, but while still in Armenia Golsefid and her parents tested positive for COVID-19, resulting in all three of them being hospitalized. Golsefid and her mother recovered after 10 days, but her father was not so fortunate. His bout with COVID led to a heart problem and he passed away after spending 50 days in an Armenian hospital.

"He just wanted to see his daughter," says Golsefid of her departed father and the saga her family endured for merely trying to spend time together in her new home. "Why does it have to be so complicated?"
***
Thus far, 20 Democratic members and 17 Republican members of the U.S. House of Representatives, as well as Republican U.S. Sen. Rand Paul and Democratic U.S. Sen. Richard Blumenthal, have shown they agree with Golsefid. In a rare display of bipartisan action, they all signed on to the Temporary Family Visitation Act (TFVA), a bill that aims to address the very problem illustrated by Golsefid's story by creating a new visa for those who want to visit family in the U.S.
Morad Ghorban, director of government relations and policy for Public Affairs Alliance of Iranian Americans (PAAIA), oversaw the drafting of the TFVA and is leading the effort to turn the bill into law. As advocates for the Iranian American community, Ghorban and his team hear many stories like Golsefid's, and PAAIA surveys of Iranian Americans enabled them to turn anecdotes into data, showing that the issue is widespread.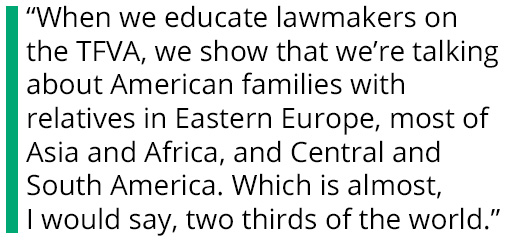 "There are upwards of 1.5 million Iranian Americans, and our polling data showed that despite them being very well integrated into American society — as entrepreneurs, scientists, lawyers, small business owners, having a real deep root in the American economy — they still maintain very close ties to relatives in Iran," says Ghorban. "Around 90 percent reported having family in Iran, and almost 50 percent said they have immediate family in Iran. Having family members visit them here in the United States has always been very important to them, particularly because so many of them cannot go back to Iran for obvious political reasons."
As Ghorban and his team looked further into the issue, it became apparent that the issue of high denial rates of nonimmigrant visas was not exclusive to the relatives of Iranian Americans. In fact, it affected families hailing from every country not included in the Visa Waiver Program, which benefits citizens and nationals of most European and Scandinavian countries and strong U.S. allies like Japan, Australia, and South Korea. Congress itself detailed the issue in a 2014 CRS report, adding statute to the catch-22 described by Scott:
Foreign nationals with U.S. citizen and [lawful permanent resident] relatives, who wish to either tour the United States or visit their U.S.-based relatives, are often denied nonimmigrant visas to visit. The presumption of intention to immigrate is stated explicitly in Section 214(b) of the [Immigration and Nationality Act], and is the most common basis for rejecting nonimmigrant visa applicants.
"This isn't just an Iranian-American issue," says Ghorban. "When we educate lawmakers on the TFVA, we show that we're talking about American families with relatives in Eastern Europe, most of Asia and Africa, and Central and South America. Which is almost, I would say, two thirds of the world."
Beyond the ubiquity argument, Ghorban says they have had great success attracting Republican cosponsors with a two-pronged pitch of economics and family values.
On the family values front, the new visa would be exclusive to relatives of U.S. citizens and lawful permanent residents, including spouses, children, grandchildren, parents, grandparents, siblings, uncles, aunts, nieces, and nephews. The bill's architects envision beneficiaries using the visas to attend landmark family occasions, like weddings, graduations, and family reunions, and the TFVA requires that applicants make "specific and realistic" plans for the course of their visit.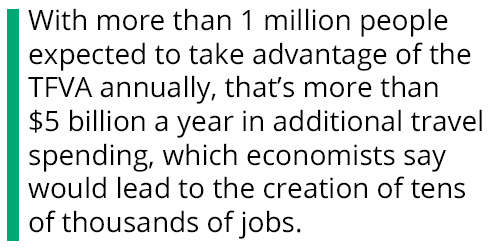 As the party of immigration hawks, Republicans are wary of abuse of such visas, and so a number of provisions are included in the bill that guard against visa overstays. During the course of their travel (which can not exceed 90 days), visa holders are prohibited from attempting to change their visa status. And responsibility for compliance is shared by the relative based in the U.S., who must petition on behalf of the visa applicant. The petitioner is required to sign an affidavit claiming financial responsibility for the applicant until they leave the U.S., and if an applicant overstays their visa, the petitioner is forever barred from the program. In addition to the U.S.-based petitioner being held financially responsible, TFVA applicants must obtain traveler's medical insurance, which includes emergency medical and evacuation coverage.
Beyond these provisions that safeguard against visa holders becoming a drain on U.S. social services, TFVA advocates argue the bill would be a boon to the U.S. economy. According to the U.S. Travel Association, each overseas traveler visiting the U.S. spends on average $5,000 during the course of a stay. With more than 1 million people expected to take advantage of the TFVA annually, that's more than $5 billion a year in additional travel spending, which economists say would lead to the creation of tens of thousands of jobs.
LeRoy Cavazos-Reyna, vice president of government and international affairs for the U.S. Hispanic Chamber of Commerce, is a strong supporter of the TFVA on economic grounds.
"As a chamber of commerce, it's completely an economic issue for us," says Cavazos-Reyna. "You allow these people to visit family under the TFVA, and wherever they go — New York, Texas, Illinois, Florida — they're inevitably depositing into the U.S. economy. They're buying goods here, they're buying gas here, they're buying airline tickets."
Of particular note is the U.S. wedding industry. While hard data on the matter is difficult to come by, many TFVA supporters report that immigrant families in the U.S. are increasingly opting to hold weddings in Canada, Mexico, and the Caribbean, where relatives from abroad can more easily obtain lawful entry to attend.
"I lived in Mexico during the majority of my pandemic time," says Cavazos-Reyna. "And I definitely saw a lot of that happening. Because it's a lot easier to get into Mexico than it is to get into the United States. And those markets also tend to be a lot cheaper for destination weddings."
In the course of his advocacy for the TFVA, Ghorban says that he's heard of many Persian- and Hindu-American families planning destination weddings in Mexico and the Caribbean to accommodate overseas guests.
"And if you've ever been to a Persian or an Indian wedding, then you know what extravagant affairs they are," says Ghorban. "In addition to what an inconvenience that is for an American citizen, that's a big loss for the U.S. economy."
When it comes to winning Democratic support for the TFVA, Ghorban says the challenge is less about specific provisions within the bill — after all, Democrats are typically supportive of any measure that would open up visa opportunities for foreign nationals — and more about navigating Democratic priorities. He describes a climate on Capitol Hill in which Democratic lawmakers have long prioritized more broad-based immigration reform — namely, a pathway to citizenship for DREAMers and other undocumented immigrants already living in the U.S. — and so are wary of spending political capital on anything less.

"I think there's always that sort of hesitancy to touch something else under the immigration sphere that doesn't deal with those broader priorities," says Ghorban. "But a lot of those priorities were voted on in the House last year. And they tried to push [a pathway to citizenship for undocumented immigrants] through the Senate through the reconciliation process. That didn't bear fruit. And what we're seeing now is members going back, at least some folks on the Judiciary, and saying, 'Okay, is there anything else that we can actually get through, and get passed?' And there's a number of immigration bills with bipartisan support now being considered, and ours is one of them."
With the 2022 midterms in full swing and the 117th Congress entering its final months, Ghorban admits there's some urgency to getting the TFVA turned into law. But if they miss their opportunity in the current congress, he's not necessarily worried about a Republican sweep in November hurting the bill's chances in the next congress.
"Whether it's Republican or Democratic control, the fact about the bill remains," says Ghorban. "This is a practical solution to an existing problem. It's got support from conservative members of Congress. It's got support from moderate members of Congress. And it's got support from progressives. It's an idea that Republicans and Democrats can agree on and work on together. There's potential here for Congress to function like it's supposed to function. And that in and of itself is important."