Mike Pence
2020 Republican Incumbent Vice President of the United States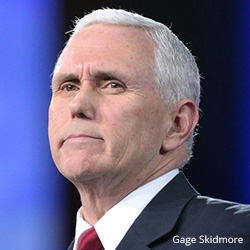 Mike Pence has been a faithful member of the Trump administration, showing little daylight between himself and the president on matters of policy, including immigration. While Pence's affirmation of the administration's most controversial policies — including the Muslim-ban and family separations — may seem like a function of his office, the vice president has his own hawkish history on immigration that predates Trump's entrance into presidential politics.
In 2006, while serving as a U.S. congressman from Indiana (2001–13), Pence released The Pence Plan: No Amnesty Immigration Reform. As the name implies, the bill would have prevented a pathway to citizenship for the undocumented population in the U.S., while increasing border security and penalties for employers who hire undocumented workers.
In 2009, Pence publicly stated his opposition to birthright citizenship and co-sponsored a bill that would have limited citizenship to children born to at least one parent who is either a citizen, an authorized immigrant living permanently in the U.S., or a non-citizen on active duty in the Armed Forces.
In 2010, Pence voted against the DREAM Act and in that same year praised Arizona S.B. 1070, which required local law enforcement to determine a person's immigration status during any lawful detention or arrest, and which was later struck down by the Supreme Court of the United States. At the time, Pence said the bill intended to "restore order in communities."
As governor of Indiana (2013–17), Pence tried to block Syrian refugees from settling in his state. Pence rationalized his ban by claiming terrorists were posing as Syrian asylum-seekers, but a federal appeals court overruled the action, calling it "discrimination on the basis of nationality."
Pence's views on immigration have been welcome in the Trump administration, on behalf of which he has appeared in front of television cameras praising ICE officers as "American heroes," defending conditions at migrant detention centers, and scolding leaders of Northern Triangle countries for not doing enough to curb migration to the U.S.
SOURCES: