Michael Bloomberg
Former Mayor of New York City | Former 2020 Democratic Presidential Candidate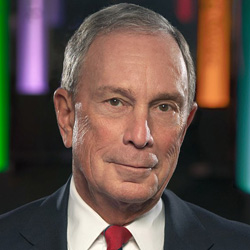 Michael Bloomberg was a late entrant into the 2020 race for the Democratic nomination for president of the United States, announcing his campaign in late 2019 as the candidacy of Joe Biden appeared to falter. The conventional thinking was that Bloomberg — a successful businessman and former three-term mayor of New York City — could capture the support of Democrats eager for a popular centrist who could win over moderates in a general election. After Biden regained his footing on Super Tuesday, Bloomberg dropped his bid and endorsed the former vice president.
With a promise to spend a significant portion of his personal fortune to help oust Donald Trump from the White House, Bloomberg will remain an influential player through the general election.
Bloomberg's centrist bona fides include running for New York City mayor as a Republican in 2001. Before entering politics, he was a lifelong Democrat. He served his third term as mayor as an Independent, and officially returned to the Democratic Party in 2018. Supporters of his 2020 presidential campaign pointed to Bloomberg's success as the CEO and co-founder of Bloomberg L.P., which was thought to project the image of a strong technocrat and capitalist that could hold appeal for right-of-center voters.
Bloomberg's appeal to liberals comes largely on his record as a philanthropist and advocate for such causes as gun control and tackling climate change. Regarding immigration, in 2010 Bloomberg founded the New American Economy, a pro-immigration, bipartisan coalition of business leaders and mayors who advocate for the positive impacts that immigrants have on the economy. In 2017, the organization released New Americans and a New Direction: The Role of Immigrants in Reviving the Great Lakes Region, a report that demonstrated the positive role immigrants have played in revitalizing many Rust Belt cities. And in 2018, the organization targeted senators with a TV and phone campaign to urge them to protect Dreamers.
The website of New American Economy asks a simple question that is front and center in this election: "What if we could see past deep-seated divisions that have stood in the way of progress on this issue, and talk about the true, measurable benefits of immigration?"
SOURCES: