Matthew Albence
Acting Director of U.S. Immigration and Customs Enforcement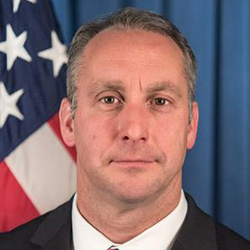 Matthew Albence, the Acting Director of ICE since July 2019, is one of the more vocal opponents of so-called sanctuary cities.
"The sanctuary jurisdictions cause us to have to go out and make more arrests at large in the community," Albence said in a February 2020 interview. The month before, he blamed the murder of 92-year-old Maria Fuertes, a resident of New York City, on sanctuary city policies, saying, "You know what? If you're going to have a sanctuary city policy, and you know it's going to result in people going back out onto the street to commit more crimes, at least own it. At least stand up and say, 'Yeah, that's our policy.' Own it. Don't sit there and try to push the blame onto someone else."
Working closely with the White House, Albence developed a special task force of 100 specially trained Border Patrol agents to work with ICE officials from February to May of 2020, targeting metropolitan areas that have passed "sanctuary bills" for crackdowns with large-scale EROs. "Dedicated men and women of ICE will continue to do their job," he said in the February interview, "regardless of the obstacles put in front of them. But these things, such as sanctuary cities, put our officers at a much greater risk than they need to be."
Albence, who has been in law enforcement for 25 years, previously served as deputy director of ICE and as executive associate director for Enforcement and Removal Operations, or EROs. Prior to the formation of ICE, he was a special agent with the (subsequently reorganized) U.S. Immigration & Naturalization Services.
On February 13, 2020, the Constitutional Accountability Center filed a lawsuit "alleging that Matthew Albence, the purported Acting Director of Immigration and Customs Enforcement, is not legally serving in that position and that any actions he takes under the authority of the office of ICE Director are therefore unlawful."
Trump has said he prefers keeping personnel in an "acting" role, as it makes it easier to replace them if he is unhappy; likewise, Albence has said he has no desire to take on the role in a permanent capacity — both factors which point to continued flux and uncertainty within the agency.
SOURCES: