Martha McSally
Republican U.S. Senator from Arizona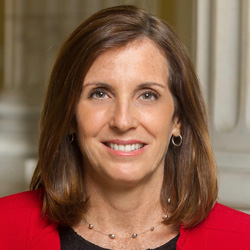 Republican Martha McSally was appointed to her U.S. senate seat following the death of John McCain in 2019. But it was only in 2018 that she ran for the other U.S. senate seat from Arizona and lost to Democrat Kyrsten Sinema. Going back to her first year as a U.S. congresswoman in 2015, McSally's views on immigration have shifted dramatically, showing how fluid the immigration debate is in this increasingly purple state.
In 2015, McSally voted against an amendment that would have ended DACA protections, saying it would be unfair to deport undocumented immigrants brought to the U.S. as children. She also released a video praising the DACA program. But as she ramped up her 2018 senate run, she removed the video from her website. She also pulled her previous support for DACA and got behind a more conservative bill that cut legal immigration, increased spending on border security, and provided indefinite stay for Dreamers but not a path to citizenship.
As a sitting U.S. senator, McSally's record on immigration has been mixed. When President Trump issued an executive order suspending entry of foreigners from seven predominantly Muslim countries, McSally issued a statement saying that the vetting process needs an overhaul but added that she had "concerns about certain individuals being denied entry." But she also voted against a 2019 resolution that would have rejected Trump's use of an emergency declaration to build a border wall.
In 2020, McSally's immigration platform will be tested as she will run against the popular Democrat Mark Kelly, whose résumé as a former astronaut and Navy captain cancels out the incumbent's record as an Air Force colonel. An added concern: The state's Hispanic population has tripled since 1990.
SOURCES: