Mark Morgan
Acting Commissioner of U.S. Customs and Border Protection | Former Acting Director of U.S. Immigration and Customs Enforcement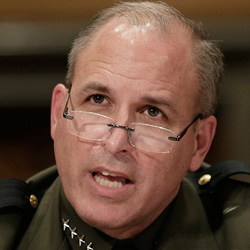 When Barack Obama nominated Mark Morgan to be the chief of Border Patrol in 2016, it was an unconventional choice. Until that point, Morgan had not ever worked for Border Patrol — or any border-focused law enforcement agency. Instead, he came from a long career at the FBI, which did include leading the Gang Task Force focused on U.S. gangs with ties to Central America, and serving as Special Agent in Charge of the FBI's El Paso division.
The nomination was opposed by the Border Patrol union, and Morgan's decision to wear a Border Patrol uniform was criticized by some of the rank and file.
Days after the 2016 election, Morgan sent out an internal email to CBP personnel, criticizing immigration enforcement policies of the Obama administration. Many viewed the move as an attempt to gain favor with the incoming Trump administration, but it didn't work — at least not in the short term: Morgan was forced to resign from the position just days after Trump's inauguration.
In the ensuing months, Morgan made numerous television appearances — including many on Fox News — to express support for President Trump's immigration policies. Still, it surprised many in Trump's administration when, just five months after removing him from his post at CBP, the president announced on Twitter that he was nominating Morgan to head ICE According to reports at the time, Trump was looking for someone "tougher" to head the agency and he determined that Morgan fit the bill.
But that position, too, was short lived, as two months later, in June of 2019, Trump announced he was shifting Morgan from his position at ICE to become the new Acting Commissioner of CBP. While Morgan's career path has been anything but conventional, his collective experience at the FBI, ICE, and CBP gives him an expansive perspective when it comes to enforcement-related issues in the immigration debate.
SOURCES: