Julián Castro
Former San Antonio Mayor | Former HUD Secretary under President Obama | Former 2020 Democratic Presidential Candidate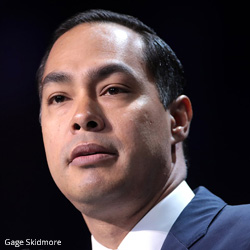 After Julián Castro ended his 2020 bid for the Democratic presidential nomination in early January, his presence on the campaign trail continued to be felt: He endorsed the presidential candidacy of Elizabeth Warren and many of the candidates who competed into March followed his lead in pledging to repeal Section 1325 of the U.S. Criminal Code, which makes crossing the U.S.-Mexico border without authorization a criminal offense.
A descendant of Mexican immigrants, Castro is a second-generation Texan who began his political career in San Antonio, the city of his birth, earning a seat on the city council in 2001. He served as mayor of San Antonio from 2009 to 2014, before being appointed U.S. Secretary of Housing and Urban Development by President Barack Obama. Castro's twin brother, Joaquin, is currently serving as the U.S. congressman for Texas's 20th congressional district.
Castro's political trajectory has been sharp, catapulting him to the national stage in little more than a decade. As the son of a Chicana activist, Castro has always been politically focused, saying, "My mother is probably the biggest reason that my brother and I are in public service." Castro was attending rallies at the age of 8, and growing up in a border state, immigration has always been central to his policy aims.
Beyond his leadership on the proposal to repeal Section 1325, Castro has been a leading voice in the Democratic Party's efforts to push back against Donald Trump's hawkish immigration policies. Add to that the Democratic Party's fervor to have a diverse White House and Castro is a prime candidate for a cabinet role should a Democrat become president.
SOURCES: