Joe Arpaio
Former Sheriff of Maricopa County, Arizona | Former 2020 Candidate for Sheriff of Maricopa County, Arizona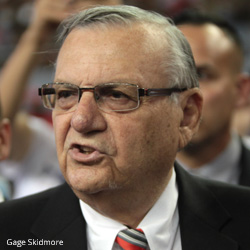 The political fortunes of Joe Arpaio and Donald Trump have been linked since 2016, when Arpaio, who had at that time served as sheriff of Arizona's Maricopa County since 1993, regularly appeared on the campaign trail with Trump. Arpaio's national profile as "America's Toughest Sheriff" and what critics call a draconian approach to immigration enforcement helped burnish Trump's image as an immigration hawk.
Arpaio was known for detaining undocumented immigrants in what he called a "tent prison" in the Arizona desert, where temperatures could reach an inhumane 120 degrees, and where detainees were given insufficient food and forced to wear pink underwear. Arpaio also made national headlines for instructing his deputies to racially profile Hispanics in defiance of the U.S. Supreme Court ruling that struck down an Arizona law, S.B. 1070, which required local law enforcement to check the immigration status of people they suspected were in the country illegally.
For this defiant action, Arpaio was held in contempt of court on three counts in 2016. That November, he was voted out of office. The following year, as Arpaio awaited sentencing, Trump pardoned him — a move that was criticized by then–Republican senators John McCain and Jeff Flake, then–Republican Speaker of the House Paul Ryan, and a host of law enforcement officials from around the country. Nevertheless, when Trump announced the pardon, he referred to Arpaio as an "American patriot" and someone who "kept Arizona safe."
Over the course of his 24 years as sheriff of Maricopa County, Arpaio became a lightning rod in the immigration debate. In an interview with Ideaspace, Arpaio stood by his record, stating, "I never hid what I was doing as sheriff; I marched my chain gangs out in the open. I wanted people to know about my programs, so they could act as a deterrent."
Regarding the contempt of court charges, Arpaio said, "I never instructed my deputies to 'racially profile.' Did we use race? Yes, in addition to other factors: like language; whether or not they were dirty; and how many people were in the car."
Arpaio also said that he was only following guidance from federal authorities.
"I signed an agreement with ICE, when they trained us and let us act in their stead, that my department could use race along with other indicators in enforcing immigration laws," he explained.
Arpaio also rejected charges that he's racist or anti-immigrant. He noted that he has parents who immigrated legally from Italy, grandchildren who are non-white, a record of hiring immigrants, and a history of working closely with Honduran law enforcement.
"I believe in enforcing the law," said Arpaio. "If people don't like it, they can lobby Congress to change the laws."
In August of 2020, Arpaio lost his bid to reclaim his office of sheriff of Maricopa County.
SOURCES: