Jeff Sessions
Former U.S. Senator from Alabama | Former U.S. Attorney General under President Trump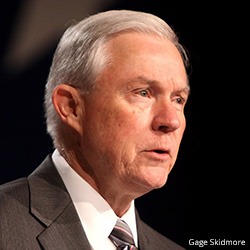 President Trump may have fired Jeff Sessions as his attorney general in 2018, but these two giants of the Republican Party remain inextricably linked.
The firing of Sessions as United States attorney general resulted from his disagreement with Trump on the role that Sessions should have played in the Russia investigation. Sessions recused himself because of his involvement in Trump's 2016 campaign, while the president believes his AG should have prevented the appointment of a special prosecutor.
Nevertheless, Sessions's influence on Trump's immigration policy remains, as the one-time AG was instrumental in the administration's rescinding of DACA, reduction of asylum grantees, family separation policy, and expansion of ICE.
In many ways, Sessions's 45 years in the public eye — as a federal prosecutor, Alabama attorney general, U.S. senator, and U.S. attorney general — has been defined by his deep skepticism of not just illegal immigration but immigration altogether. On several occasions he has stated that the country should admit far fewer immigrants and only those who serve "the national interests," generally qualifying this in economic terms. While many Republicans talk in terms of "good" immigrants and "bad" immigrants, Sessions has taken a more narrow view, emphasizing that the burden of proof ought to be on immigrants to convince the courts that they deserve to stay in the U.S. "The American people have known for more than 30 years that our immigration system is broken," he said in a speech on January 26, 2018. "It's intentionally designed to be blind to merit. It doesn't favor education or skills. It just favors anybody who has a relative in America — and not necessarily a close relative. That defies common sense. Employers don't roll dice when deciding who they want to hire . . . A merit-based system would better serve our national interest because it would benefit the American people, which is what the Trump agenda is all about . . . That kind of system would be great for our economy, of course."
As senator from Alabama (1997–2017), Sessions often found himself leading a faction of his own party — often a small one — against bipartisan immigration reform efforts endorsed, or at least tolerated, by Republican leadership. In 2013, during the Senate's most recent comprehensive immigration reform fight, Sessions took a lonely stand against the bipartisan "Gang of Eight" immigration bill in the Senate Judiciary Committee — and then led the bill's opponents on the Senate floor when then-Minority Leader Mitch McConnell declined to steer his caucus one way or the other on the bill.
Sessions's views on immigration have always been in alignment with President Trump's, particularly when it comes to his belief that immigrants are more likely to commit crimes than the native-born population. He has often presented this belief with anecdotal narratives only, as there is a lack of clear statistical data to support the assertion.
Sessions called for a border wall long before President Trump made it the hallmark of his 2016 campaign, and he became one of the earliest high-profile supporters of Trump's White House run. And though Sessions was unceremoniously dismissed from the Trump administration, Stephen Miller, his longtime communications director during his time in the Senate, remains one of Trump's closest advisers on all matters pertaining to immigration policy.
SOURCES: