Elizabeth Warren
U.S. Senator from Massachusetts | Former Democratic 2020 Presidential Candidate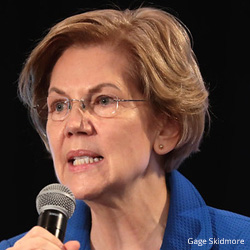 "You didn't build that," became a theme for Elizabeth Warren when she successfully ran for the U.S. Senate in 2012. She told the people of Massachusetts that our sense of responsibility should extend beyond pulling ourselves up by the bootstraps and tap into the idea of building a civil society with support from each other. Her run for Ted Kennedy's old seat was aided by the fact that she was an economic advisor to President Barack Obama, who tasked her — as a former Harvard Law School professor with expert knowledge of bankruptcy — to build the Consumer Financial Protection Bureau in the wake of the 2007 housing crisis.
For her 2020 campaign for the Democratic presidential nomination, which ended shortly after Super Tuesday, "You didn't build that" was replaced with "I have a plan for that," including one for immigration.
Warren's campaign website called for "A Fair and Welcoming Immigration System." Her wide-ranging plans included raising the refugee cap to 175,000 by the end of her first term in office and ensuring due process and public defenders for those facing deportation.
Warren's progressive rival for the nomination, Bernie Sanders, also had a bold immigration plan — a natural outgrowth of his core message of economic justice that resonated well with Latinx voters, powering the Vermont senator to big primary wins that made it evident that he had won over the left wing of the party. After finishing behind Sanders and Joe Biden in all of the Super Tuesday primaries, Warren suspended her presidential campaign.
SOURCES: