Belén Sisa
Deputy National Press Secretary for 2020 Bernie Sanders Campaign for President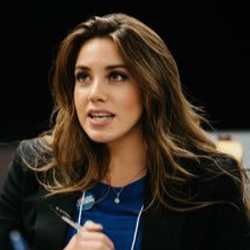 Belén Sisa, the former deputy national press secretary for Bernie Sanders, is the only DACA recipient to ever hold a senior position in a major campaign for president of the United States.
Brought to the U.S. from Argentina when she was six years old, Sisa, now in her 20s, grew up in the shadow of Arizona's SB 1070 law, which required local and state law enforcement to check the immigration status of all persons during routine detentions and traffic stops. Some, though not all, of the law was struck down by the Supreme Court in 2012. Sisa enrolled in DACA once President Obama initiated the program in 2012 and, at 19, she got her first job working in the office of an immigration attorney.
Sisa became an activist at Arizona State University where she majored in political science and co-founded Undocumented Students for Education Equity (USEE). She began direct engagement with national politics when she was one of two DACA recipients to serve as a page for the Arizona delegation at the 2016 Democratic National Convention.
In March 2017, Sisa posted a picture of herself on Facebook holding up her tax form. "I, an undocumented immigrant, just filed my taxes and PAID $300 to the state of Arizona," she wrote in the post. "I cannot receive financial aid from the state or federal government for school, I cannot benefit from unemployment, a reduced healthcare plan, or a retirement fund. I think I'm a pretty good citizen." The post was shared more than 6,000 times.
Her activism intensified, and she was one of eight DACA recipients to be arrested in December of 2017 after participating in a sit-in outside congressional offices in support of the DREAM Act. "We constantly hear Republicans say they are pro-life," she wrote in an essay, "yet they ignore the lives of migrant children."
As Sisa's profile grew, she caught the attention of Bernie Sanders who, in February 2019, hired her to be the deputy national press secretary for his presidential campaign. Many of Sisa's positions on immigration issues are aligned with those of her former boss. She explained her support for him in a 2019 interview: "He is not going to put a Jared Kushner in charge of writing immigration policy when he hasn't had a hard day in his life. You put people who actually know something about this, because either they've been personally affected, which is, I think, the best way to go about it, or actually have the knowledge to put something in place that's humane, that's dignified, and that's fair."
Despite ultimately losing the Democratic nomination for president, Sanders was able to notch big wins in Nevada and California on the strength of his support among Hispanics. "It's not just about ads," Sisa said in a 2019 interview about Sanders's popularity among Latinx voters. "It's not just about trying to knock on their door right before the primary. It's about putting people who look like them on the campaign, it's about making them feel like they're capable."
SOURCES: